Last year's "experiment" was so well received we're bringing it back! Before we list what you can look forward to this year, let's highlight the things we accomplished in 2022.
This past year saw new TLP server unlocks, improvements to the Test Server, the successful launch of Kael Drakkel (the Lore and Legend server), updates and new content added to numerous in-game events, two huge game updates that included new Overseer, raid, and dungeon content, the successful launch of Varsoon, 64-bit upgrades to servers and clients, the amazing and humbling response to our Extra Life efforts, and last but certainly not least, the incredible launch of Renewal of Ro. Worth noting here is the missing Swag Store we hoped to launch back in September. That hasn't happened yet, but we are still working to finish it, and we appreciate your patience.
2022 Roadmap Update: 
Completed:

October:
November:

Heroes' Festival - Celebrate our 18th Anniversary!
Extra Life - Help us raise funds for the Children's Miracle Network.

December:

Heroic Opportunity System Update - Making heroic opportunities fun and relevant again!
We are once again very excited to share our plans for 2023 with you. Remember, these are high-level goals we hope to complete this year but each one may be subject to change and/or delay. Let's dive in!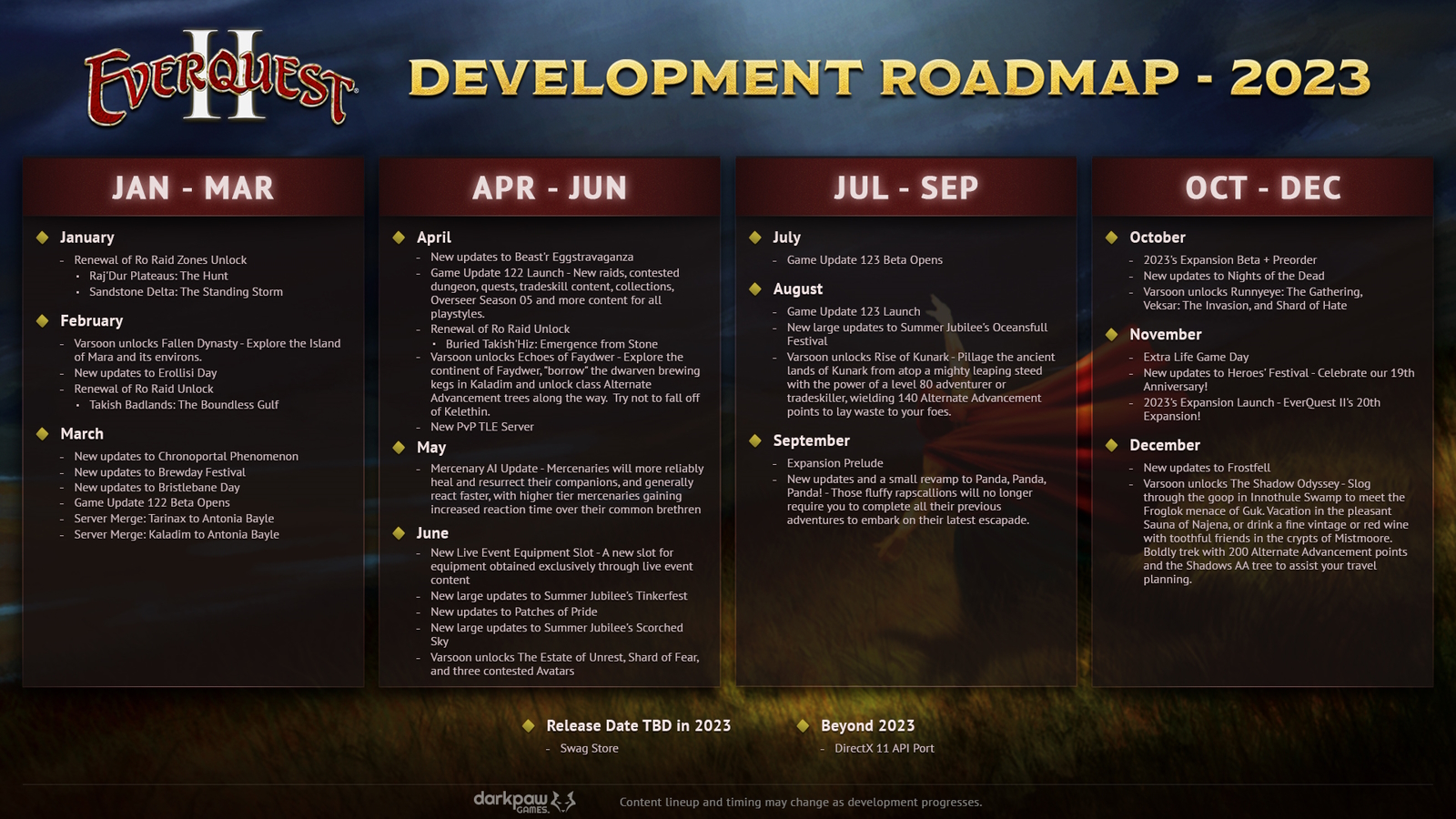 2023 Roadmap:
January:

Renewal of Ro Raid Zones Unlock

Raj'Dur Plateaus: The Hunt
Sandstone Delta: The Standing Storm

February:

Varsoon unlocks Fallen Dynasty - Explore the Island of Mara and its environs.
New updates to Erollisi Day
Renewal of Ro Raid Unlock

Takish Badlands: The Boundless Gulf

March:

New updates to Chronoportal Phenomenon
New updates to Brewday Festival
Renewal of Ro Raid Unlock

Buried Takish'Hiz: Emergence from Stone [Updated March 1, 2023] This zone will be available when the April Game Update launches.


New updates to Bristlebane Day
Game Update 122 Beta Opens
Server Merge: Tarinax to Antonia Bayle
Server Merge: Kaladim to Antonia Bayle

April:

New updates to Beast'r Eggstravaganza
Game Update 122 Launch - New raids, contested dungeon, quests, tradeskill content, collections, Overseer Season 05 and more content for all playstyles.
Varsoon unlocks Echoes of Faydwer - Explore the continent of Faydwer, "borrow" the dwarven brewing kegs in Kaladim and unlock class Alternate Advancement trees along the way. Try not to fall off of Kelethin.
New PvP TLE server

May:

Mercenary AI Update - Mercenaries will more reliably heal and resurrect their companions, and generally react faster, with higher tier mercenaries gaining increased reaction time over their common brethren.

June:

New Live Event Equipment Slot - A new slot for equipment obtained exclusively through live event content.
New large updates to Summer Jubilee's Tinkerfest
New updates to Patches of Pride
New large updates to Summer Jubilee's Scorched Sky
Varsoon unlocks The Estate of Unrest, Shard of Fear, and three contested Avatars.

July:

Game Update 123 Beta Opens

August:

Game Update 123 Launch
New large updates to Summer Jubilee's Oceansfull Festival
Varsoon unlocks Rise of Kunark - Pillage the ancient lands of Kunark from atop a mighty leaping steed with the power of a level 80 adventurer or tradeskiller, wielding 140 Alternate Advancement points to lay waste to your foes.

September:

Expansion Prelude
New updates and a small revamp to Panda, Panda, Panda! - Those fluffy rapscallions will no longer require you to complete all their previous adventures to embark on their latest escapade.

October:

2023's expansion Beta + Pre-order
New updates to Nights of the Dead
Varsoon unlocks Runnyeye: The Gathering, Veksar: The Invasion, and Shard of Hate.

November:

Extra Life Game Day
New updates to Heroes' Festival - Celebrate our 19th Anniversary!

End of November:

2023's Expansion Launch - EverQuest II's 20th Expansion!

December:

New updates to Frostfell
Varsoon unlocks The Shadow Odyssey - Slog through the goop in Innothule Swamp to meet the Froglok menace of Guk. Vacation in the pleasant Sauna of Najena, or drink a fine vintage of red wine with toothful friends in the crypts of Mistmoore. Boldly trek with 200 Alternate Advancement points and the Shadows AA tree to assist your travel planning.

Release Date TBD in 2023:
Beyond 2023:
That about wraps it up for most of what you can expect this year. Lots of exciting things are coming up so here's hoping you're ready!
Prepare to see if it's leafier on the buried side,
Jenn Chan
Head of Studio
Join us on social media: Twitter, Facebook, Instagram, and Discord.