What better way is there to celebrate Tinkerfest, the annual gnomish festival that celebrates friends and clockworks, than with new tinkered items in the Marketplace? This week's update adds a whopping seventeen new items to the EverQuest II Marketplace that have all been "safety" approved by the Gnomeland Security Headquarters. Also, previous Marketplace tinkered items are on sale for Tinkerfest.
Our Player Studio artists have some special treats available in the Marketplace, designed special for this year's Tinkerfest. Reminder for those new to this, Player Studio gives you the chance to share your creative vision and leave a permanent mark on the game worlds you love to inhabit.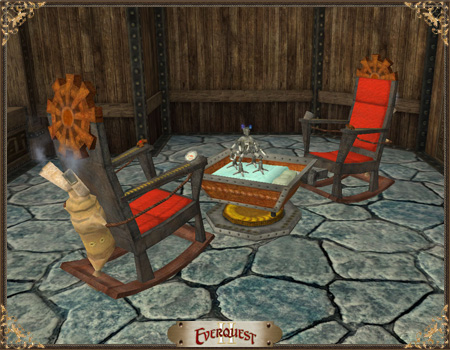 Do you have any little little ones on the way? (get it? It's a gnome joke!) If so, then a GnomeWorks Rocking Chair and GnomeWorks Baby Basket by Jerry Dechant is probably the perfect addition to your tinkered home.
What about the other parts of your home? Betty Clocker, if she were a real gnome, would suggest GnomeWorks Stove, GnomeWorks Icebox, and GnomeWorks Step Stool by Jerry Dechant to bring your clockwork kitchen together.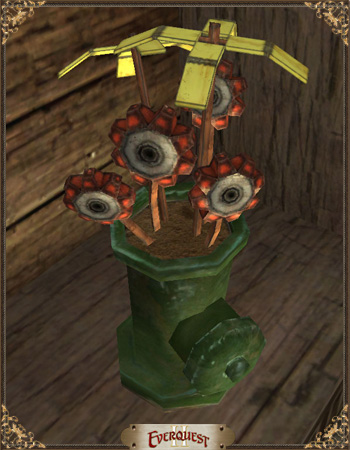 After all of your friends have properly redecorated for Tinkerfest, what housewarming gift could you possibly offer that would be better than an Engineer's Bouquet by Neko Zero.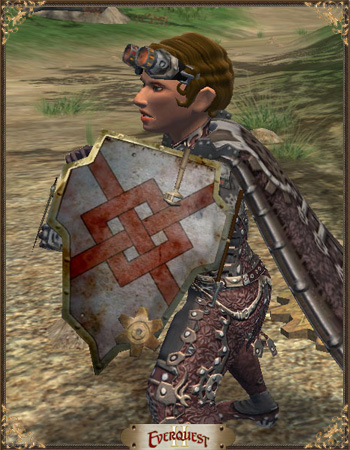 Tinkerfest is a holiday that puts players out in the world. After all this work decorating your homes, some of you will probably seek a little adventure for the holiday. In that case, consider upgrading your shield with a Gnomish Utility Shield by MasterMagnus.
But hey, not everything added to the Marketplace this week is a Player Studio item. Let's start the other Marketplace additions by highlighting something for your home that is really unique.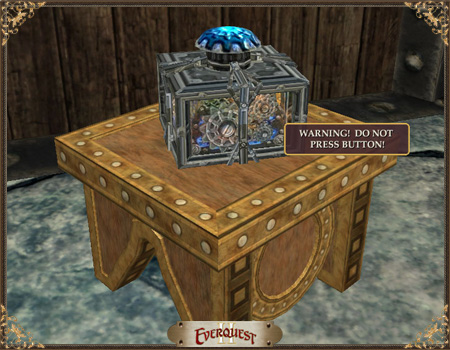 WARNING: DO NOT PRESS THE MECHAMAGIC UNEASY BUTTON. Really, don't do it. Don't even think about it. If any of your friends opt to add this item to their homes, you should ask yourself if they are actually real friends, or merely frenemies.
This bundle contains Galvanic Goggles, Galvanic Tinkered Cloak, and three variants of Galvanic Attire. Sure, you can get some of these items separately, but why not get the complete set?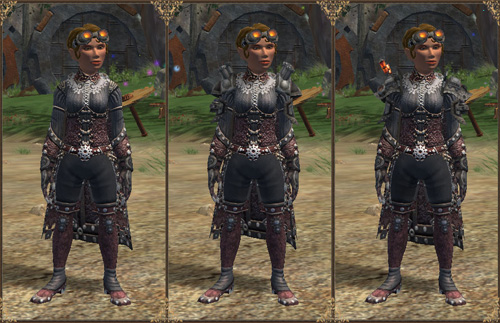 Much like the other bundle listed above, except colored different. Is Galvanic or Catalytic a better design? We let you be the judge! Pick up Catalytic Goggles, Catalytic Tinkered Cloak, and three variants of Catalytic Attire.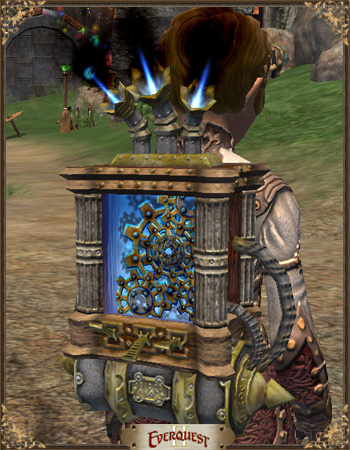 So after seeing all these unique additions to the Marketplace, the question I would ask myself is "Self, how do we even attempt to carry all of these new items?" At this point, I would promptly answer myself with the proper answer, "In style!" Tinkered Backpack is exactly the thing I need to stay in character, when I am exploring the world and picking up various shinies for Tinkerfest.
In addition to these new items in the Marketplace, all previously-existing Tinkered items will be discounted by at least 30% from today, Friday, July 26, through the end of Tinkerfest on Tuesday, August 13, at 11:59PM PDT. If you've been looking to deck your house out in proper Gnomish clockwork styling, this is a great opportunity to do so!
To buy any of these items using your Station Cash, just click the SC button in game, or type /marketplace in your chat window.

Need Station Cash? Visit the Station Cash page for information and learn how you can purchase SC online or from a retailer near you.