by Ry "Roshen" Schueller
Don't let this week's chilling Nights of the Dead Marketplace additions scare you. There are many ghastly new items for adventures and ghouls alike.
Fright Manor Deed
Looking for a dreadful new home to invite your friends over to for the most gruesome Nights of the Dead party ever? The style of Fright Manor is something you won't want to overlook.
Revenant Dire Bear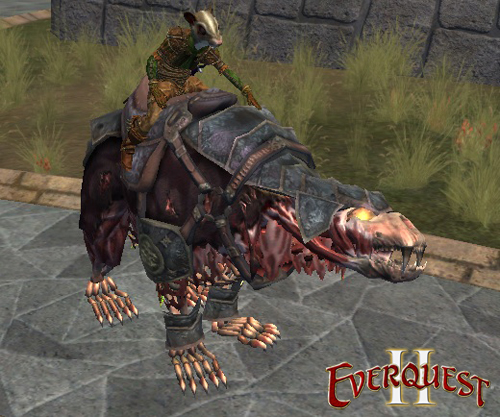 This horrifying undead dire bear can be yours to have some hair-raising adventures with across Norrath. He doesn't really ever get hungry, and he's certain to make a frightening impression on your friends!
Creepy Cypress Trees, With and Without Lamps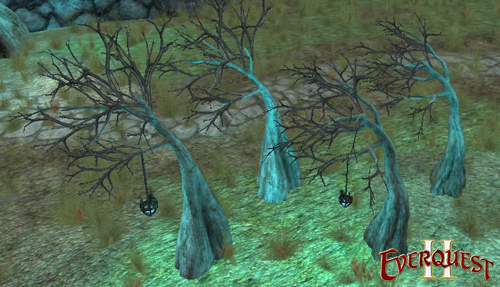 As the wind howls and the branches creak, you'll want to check all around these trees for things that go bump in the night. Luckily, some of the trees are slightly illuminated by haunted hanging lamps.
These trees can be purchased separately, or bundled in different sets.
Creepy Cypress Tree Bundle Contains:
2 x Winding Cypress Tree
2 x Leaning Cypress Tree
Creepy Cypress Tree with Lamps Bundle Contains:
2 x Winding Cypress Tree with Lamp
2 x Leaning Cypress Tree with Lamp
Pumpkin Manor Door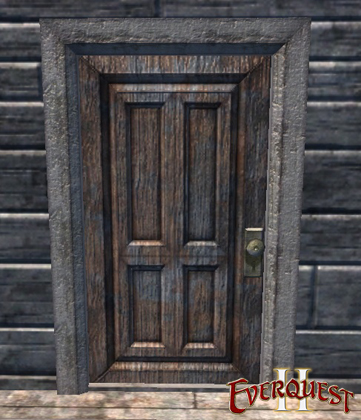 Any macabre themed home requires a proper Pumpkin Manor Door. Anything less would be uncivilized!
A Variety of Pumpkins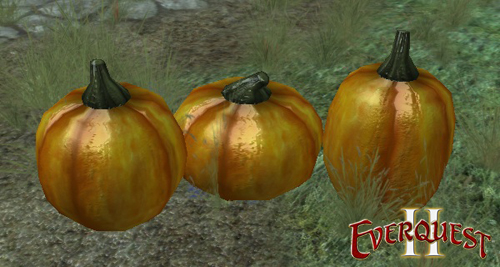 Pumpkins for your home come in a variety of sizes! Perhaps you need a Round Pumpkin. though a Short Pumpkin and a Tall Pumpkin are also good choices! Whatever size you pick, these can be purchased separately or bundled together.
Pumpkin Variety Bundle Contains:
3 x Round pumpkin
3 x Short Pumpkin
3 x Tall Pumpkin
Restful Crypt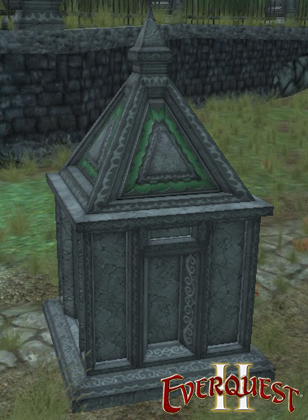 Looking for a restful place to lay your tired bones? If so, this Restful Crypt is probably perfect for you.
A Variety of Tombstones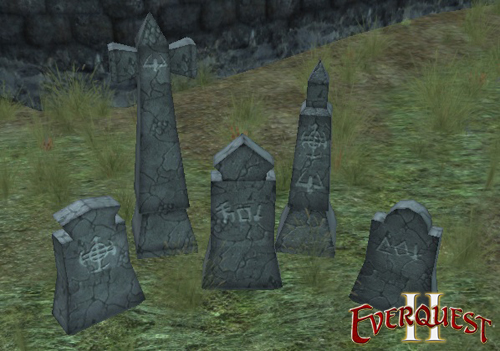 Pointed Tombstone, Wedge Tombstone, Rounded Tombstone, Cross Tombstone, and Pillar Tombstone can all be purchased separately in the Marketplace or bundled together.
Tombstone Variety Bundle Contains:
1 x Pointed Tombstone
1 x Wedge Tombstone
1 x Rounded Tombstone
1 x Cross Tombstone
1 x Pillar Tombstone
In addition to all of these new items, check the Marketplace for other returning Nights of the Dead items that are available again until November 12, 2013!
Even if you're terrified about telling other Norrathians how much you enjoy this week's additions, feel free to check back weekly because there are always new items that you'll want to talk about being added to the EQII Marketplace.