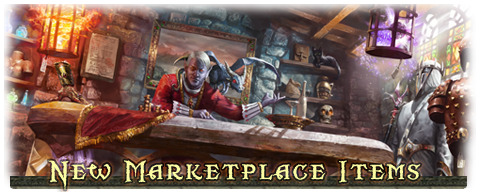 New Marketplace releases are moving to Wednesdays! And this week in addition to our normal weekly items, we've also got several Erollisi Romance Specials. Check out all of the offerings now available on the Marketplace. You'll also want to keep your ear to the ground for news of a BIG one-day Marketplace sale coming up soon. You won't want to miss this one!
Cloak of the Beloved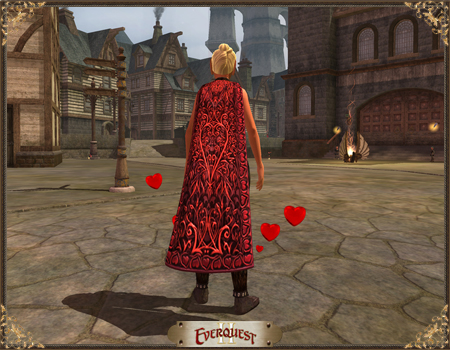 The beautiful Cloak of the Beloved is decorated with hearts and will make you a vision in red. It also summons a floating heart pet to follow you around. Pick one up for yourself for 500 Station Cash. Don't forget your sweetheart, too!
Secluded Sanctum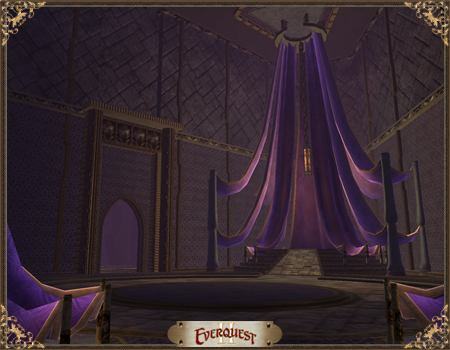 The new Secluded Sanctum prestige home is very romantic with its dramatic canopies of royal purple. Similar in style to Sullon's Spire, this abode will make a great place for a secluded getaway. It has an item count of 800, and is available now on the Marketplace for 1000 SC.
Polished Wood Variety Set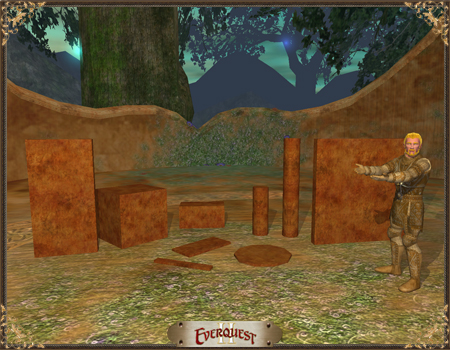 Building blocks allow adventurers to take their creativity to new levels. Made of the finest polished wood, this set includes a short column, short divider, stair, tall column, tall divider, tile, block, half block, railing, and rounded tile. Get yours for just 250 SC and start constructing! The Polished Wood blocks are also available at the Kelethin City Festival, which happens twice a year.
Erollisi Romance Specials

Circlet of Erollisi Roses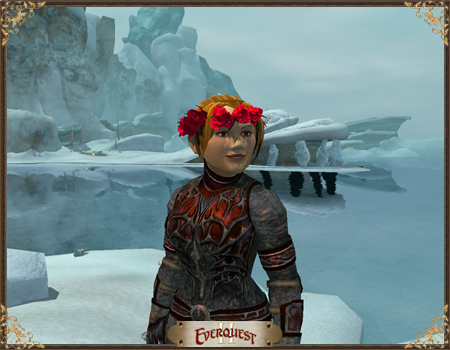 Available for a limited time only, this lovely circlet of red roses can be worn on your head and lends a touch of romance to any outfit. It will be removed from the marketplace once this sale is over and may not return for some time, so don't miss your chance to pick it up! Just 400 Station Cash will make it yours today.
Erollisi Cards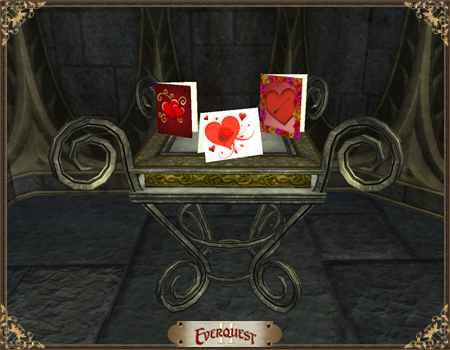 Also available in the Marketplace while this sale is on, the Pack of Erollisi Day Greeting Cards contains 15 player-writeable greeting cards (5 each of 3 different appearances) which are fully tradable and can be placed in any type of house, dungeon, or guildhall.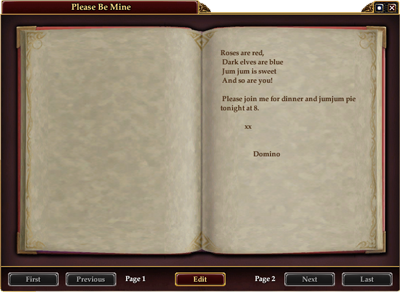 When you read the card from your inventory, use the "edit" button to add your own personalized title and message, then save your message and trade it or mail it to your friends or enemies. (Cards that already have a message can only be changed by the original author.) Spread the spirit of Erollisi with these romantic greeting cards! Just 300 SC in the Marketplace.
Bundle Packs & Free Offer!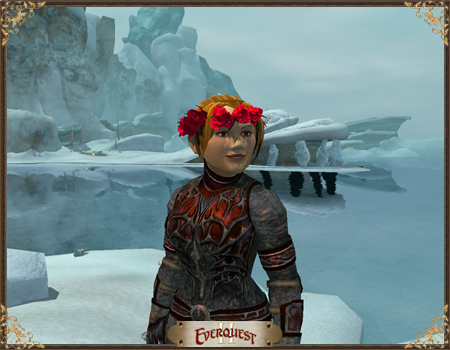 Special offer! Buy any one of our three bundle packs, which are available at up to 50% off the non-bundled price, and get the Circlet of Erollisi Roses for free.
The "Defender's Appearance Bundle Pack" and "Shadowed Appearance Bundle Pack" are "lighter" and "darker" themed bundles containing selections of several popular appearance items. Each pack includes a plate armor set, a casual wear set, a weapon, a shield, a cloak, and a horse mount! These packs are available for 1300 SC each.
And if you'd like to dress up your home as well as yourself, pick up the "Romantic Furnishings Bundle Pack" which contains a full set of Castellum furniture, five paintings, two sparkle balls, and the lovely gold marble furniture set. Don't miss this great opportunity to pick up these lovely items, at a fantastic bundle price of 1800 SC, for a limited time only!
To buy these items and more using your Station Cash, just click the SC button in game, or type /marketplace in your chat window.
Need Station Cash? Visit the Station Cash page for information and learn how you can purchase SC online or from a retailer near you.