Title: The Heroes' Festival Continues: Decorators Reminisce!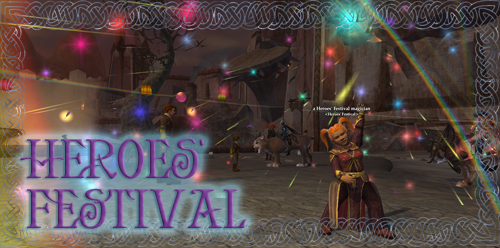 Have you checked out the Heroes' Festival yet? Don't miss out on this once a year event honoring all of Norrath's citizens, with rare quests and items and chance to celebrate with your fellow players!
Our very talented decorating community has started a thread on the Official EverQuest II forums, sharing pictures of their early decorating triumphs and tribulations. It's amazing to see how far they've come from the early days of the game, where they pioneered the skill of turning normal items into something amazing, to now, when there are so many more items available and their ambitions are even grander!
To take a look at some of the inventive and creative things our decorators do, be sure to check out the Norrathian Homeshow forum. Get tips and tricks on how to decorate your own home, or even hire a decorator on commission. The opportunities are endless!
The Heores Festival runs until November 30th, and can be found in North and South Qeynos, West and North Freeport, and also in Halas.
Find out more about Norrath's Heroes' Festival from these websites: