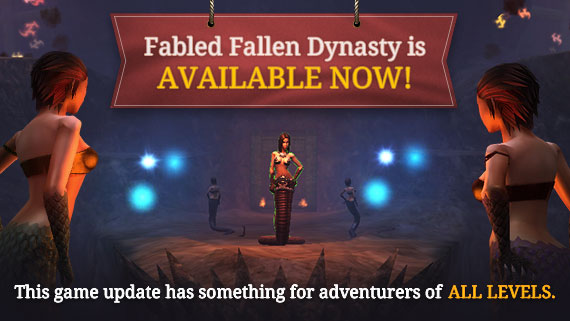 Hail, Norrathian!
Are you seeking an adventure? One that both feels somewhat familiar, but also offers exciting challenges? Then today is your day! With today's update, the following have been added to EQII:
Fabled Fallen Dynasty
A portal awaits you in The Village of Shin that will take you to new fabled versions of dungeons from The Fallen Dynasty. You must be Level 100 and have a membership to access these zones.
Public Quests
New, limited-time Public Quests are available throughout Norrath. Check your map to find these battle regions!
New Agnostic Zones Scaling to Level 100
As of today, versions of The Crypt of Agony, Crypt of Valdoon, Befallen: Cavern of the Afflicted, Guk: Halls of the Fallen and Kael Drakkel: Iceshard Keep have been added to the dungeon finder and Agnostic Portal.
Altar of Malice FREE to All Players
To prepare for our next expansion coming out later this year, Altar of Malice will now be free to all players.
And More!
Don't miss these other articles on Heroic Character Updates (and how to get a free one!) and the August Weekend Promo (August 23 – August 29) ! And if you're still looking for more details on Fabled Fallen Dynasty (GU101), read the initial announcement article or visit our official forums to talk to your fellow adventurers.
Not a member yet? Access to the new fabled dungeons is just one of the many benefits of All Access Membership! Learn more and become a member today!