Ghosts and goblins, pumpkins and poltergeists, bats and broomsticks… it's Halloween time here at Daybreak! We've got special themed in-game activities, new Marketplace treats, and a chance to win some Daybreak Cash – no tricks!
Daybreak Halloween Promotion: $25 Daybreak Cash Card Giveaway!
New Daybreak game cards will be hitting the shelves of U.S. retailers this month, and we want to give some away! We'll randomly select ten (10) winners to each receive a $25 Daybreak Cash Card. Here's what you need to do:
Take a Halloween-themed screenshot or create a Halloween-themed video of your character in any Daybreak game enjoying this year's events/items/in-game NPCs and decorations.
Submit your entry. You have two options for submitting:
Upload to the official Daybreak Halloween Promotion site here.
Follow @DaybreakGames on Twitter and tweet your entries using the hashtag #DaybreakHalloweenPromo. You MUST be following @DaybreakGames, and include the channel AND the hashtag for your entry to be valid.

Already have the perfect submission? You can submit starting NOW! Not quite in the Halloween spirit yet? That's okay – you have until Monday, November 2 at 12:00PM PST* to get your submissions in!
For full rules and restrictions, visit this site .
Please note: Daybreak Cash is usable in any Daybreak Games PC Title. Daybreak Cash cannot be used on the PS3 or PS4.

In-Game Events & Items on Sale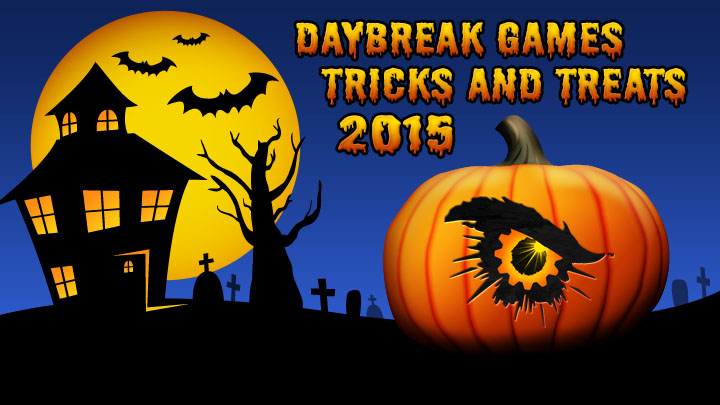 In EverQuest II, the Marketplace is getting ready for Nights of the Dead! New items are available beginning October 1, and the event will return to Norrath on October 8th. The annual event will feature new illusions, rewards, and a new recipe book for tradeskillers. There are also returning favorite quests and earnable achievements from previous years.
EverQuest introduced new scary, spooky items into the Marketplace today, including items created by Player Studio artists. These items will get you in the spirit before the Nights of the Dead, the returning annual event where you can check in with special festive merchants in the starting cities and find seasonal Heroes' Forge armor dropping across the world! Nights of the Dead in EQ begins in-game on October 28th.
Over in Landmark, new props and materials will be added to the game in the middle of October to allow builders to get ready for a special Halloween Build-A-Thon and in-game party! Be on the lookout for Halloween Island, a special location just for themed builds. More information about the in-game party will be available later in October.
The Halloween fun has already begun in PlanetSide 2 with Nanite of the Living Dead. These pumpkin spawns will be available until November 10, so make sure you start harvesting those seeds so you can get your hands on special Halloween helmets! There are additional helmets, camos, and weapons available in the Depot.
The Witching Hour returns to DC Universe Online today (October 1 at 4:00PM). Featuring new base items, feats, styles, and a new title, this in-game event allows you to earn special in-game currency called Spooky Bites, which you can use in Skeet's Boo-tique for tricks, treats, and creepy items for your base or guild hall.
Though it's always a bit scary to be wandering around in H1Z1, this year the horror will be amped up even more! Stay tuned for complete details about what that means, but in the meantime (if you dare) head into Survival Mode and/or Hardcore Battle Royale and see just how many zombies you can find!
So get ready to celebrate the tricks and treats of 2015! Happy Halloween!