Yun Zi has his second-to-last request of the year ready for you! This week, summer will be all but forgotten as Yun Zi sends you down to the chilled lands of Everfrost. Succeed in completing his quest, and you'll earn yourself the Ascension of Tol'Ren adornment, Divine Stamina Grant, greaves, and the Days of Summer 2018 Decoration Pack 8.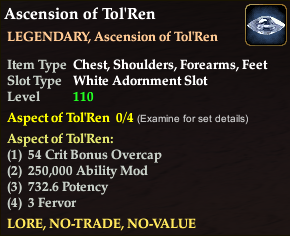 As always, you'll have to make sure that you've first completed all of Yun Zi's previous quests before you can go on this week's adventure.
Yun Zi will have his final Days of Summer quest ready for you on Tuesday, October 16, at 12:01AM PT. After this unlocks, all of Yun Zi's quests will be made available for members who have not yet completed them.
Shed that summer gear, and get ready to head to Everfrost!