Beta testing for the Altar of Malice expansion is in full swing and now open for everyone to try out! Joining the Beta server for testing is a great chance to take a look at all of the incredible things coming with Altar of Malice, and also an excellent opportunity to give us your feedback about the expansion before it launches on November 25, 2014. In addition to seeing these gorgeous lands before launch, you can also take some loot home to your live characters just for participating in the Beta action! Take a look at the rewards players can obtain for their live accounts by Beta testing overland, heroic, and tradeskill content.
This Char-Ferrin, Hound of Despair ground mount is rewarded to players who Beta-test solo overland content in Altar of Malice. Intimidate your enemies by riding into battle on this ferocious hellhound! If the flaming eyes and spiked mane aren't enough to scare you, maybe the razor-sharp teeth will awaken your senses.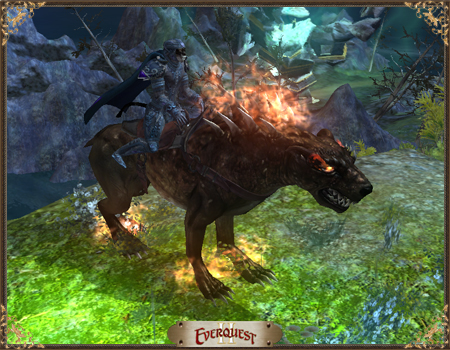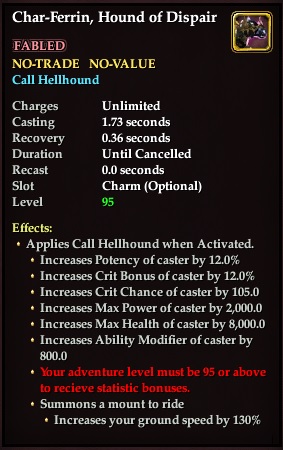 The Xan'Tak the Abrupt flying mount is obtained by Beta-testing heroic content in Altar of Malice. Don't be fooled by the appearance of this mount; it's not a creature that can easily be swatted down in battle! No amount of bug spray will be able to repel this prehistoric insect from advancing, so get ready to take to the skies to target your next foe.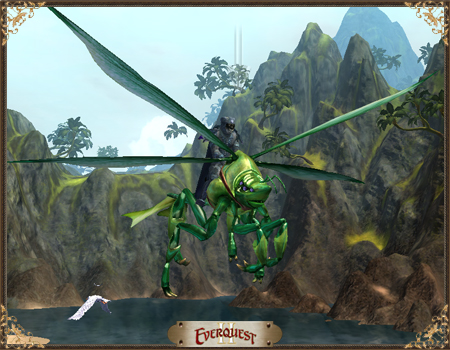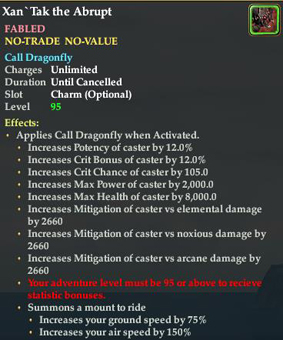 The Carpet of Assured Quality flying mount will be given to players who complete tradeskill content while Beta-testing Altar of Malice. It's a whole new world out there in The Shattered Seas; why not explore it on this stylish flying carpet? These stats should help any tradeskiller with their adventures as well as their crafting tasks.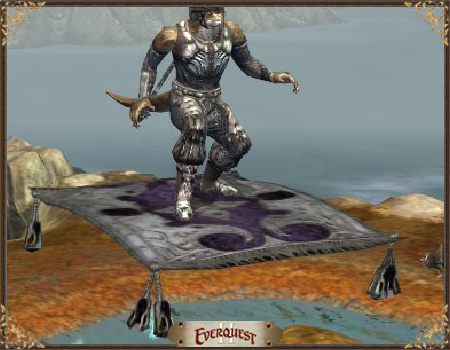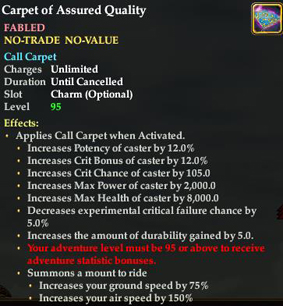 Are you interested in Beta testing now? If so, here's some consolidated information to help you get started in Beta.
How to provide testing feedback:
Use the /bug or /feedback command in game to open a window and submit information
Post issues and suggestions in the Altar of Malice Beta Forums
How to copy your character over to the Beta server:
Log in your character and then type the /beta command.
To patch and get into the Beta servers:
Open your station Launchpad
In the top-left corner, click the 'Version' link which will open the 'Select Game Version' panel
Choose 'Beta' in the drop-down menu, and then hit 'Apply' to begin patching
Hit 'Play' once the patching completes
Other Important Information:
Beta installs into a subfolder that takes about the same space as your live game version.
Remember to set the 'Version' back to your regular setting to access your normal server.
The Beta server may not be accessible at all times, as patching occurs when it is necessary.
The Beta server is wiped periodically, meaning Beta characters may be deleted with or without notice.
Remember, Altar of Malice officially launches on November 25 and All-Access Members will be able to play the expansion two weeks early, beginning on Tuesday, November 11, 2014! There's not a moment to lose, so make sure you visit the Shattered Seas and start earning these rewards! We look forward to hearing your feedback about Altar of Malice and seeing you on the Beta server.