Join Antonia Bayle and her subjects for the famous Qeynos City Festival! The Far Seas Trading Company is back and eager to do business in The City of Hope, so gather up your City Tokens and join the fun.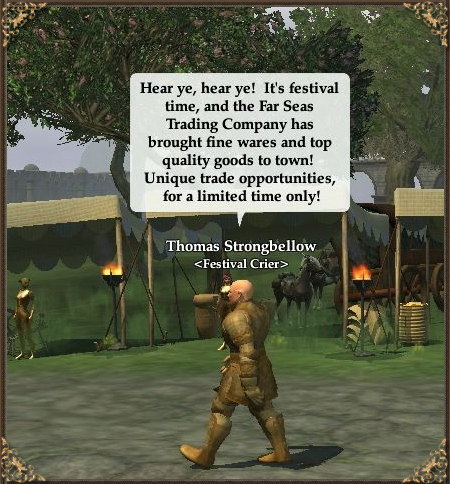 Festival Merchants: Rent a fancy outfit, feast on a Smoked Giant Vulrich leg, and wash it all down with a Djinn and Tonic. Qeynosians know how to party!
City Token Quests: Adventurers and Crafters alike can earn City Tokens from the Far Seas Trading Company! Speak with Kella Swampfoot, the Far Seas Quartermaster, for your assignment. The quests are repeatable, so save up for your favorite items!
Local Specialties: The City of Hope is famous for its elegant white marble furnishings, and Far Seas Merchant Chris Weathers has everything you need to give your home or guildhall a Qeynos-style makeover.
Festival Collection Quest: It's easy to get distracted by all the cool things at the Festival, but don't forget to look down! Gather all the special Collectibles and you'll receive a Qeynos-themed mailbox for your home.
Aether Races: Feeling brave after that Djinn and Tonic? Hop in a Gnomish flying machine and try your luck at the Qeynos Festival Aether Race! If you can complete the course in 134 seconds or less, you'll earn the exclusive "Bridge Buzzer" title.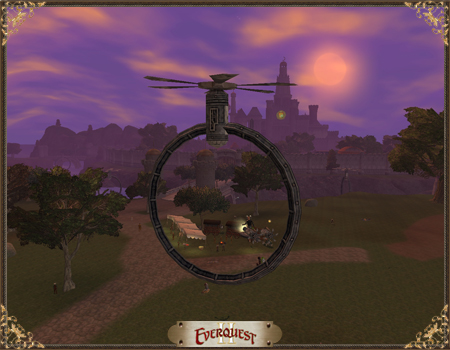 The Far Seas Trading Company caravan is located in Antonica near the North Gate of the city, so even evil characters won't be hassled by the guards. For a full guide to the festival, visit the EQ2i wikia page, or the EQ2 Traders fansite. See you in Qeynos!