This weekend, players on Antonia Bayle and Everfrost can join in acts of kindness with two special player-run events on these servers.

Antonia Bayle: Pay It Forward, Summer 2013
Knights of Freeport and Moonshadows Trading and Securities LLC of Antonia Bayle Server present:
Pay It Forward, Summer 2013
Sunday, July 14, 2013 at 8pm ET*
Isle of Mara on Antonia Bayle Server
Here is a message to Norrathians of the Antonia Bayle Server from Arquenniel:
Is your storage full of stuff rotting away and taking up space? Do you want to use your crafting skills for more than writs and status grinds? Well, empty your banks and polish up your tradeskill tools! It is time once again for Pay It Forward!
This event was originally started and written by Jayne/Fille of the Freeport server:
"What is Pay it Forward, you ask? Well it's a day when adventurers and crafters come together to donate crafted goods, items rotting away in your bank, plat, rares, masters ... you name it ... to young adventurers, asking only that they perform some random good deed for a complete stranger in return."
We have done this several times before and everyone has a blast! Come help spread some positive energy across the server and help out others. You are welcomed to come with your tradeskillers, donations, and smile if you want to help out.
If you are new, come to the Isle and we will give you stuff towards getting a good start and an opportunity meet some of the many roleplayers on EQ2's only roleplay server.
If you are interested in helping out with this event, please contact Arquenniel or Tajar via a /tell in game or in game mail!
Only a traitor to the Overlord would miss this! You are not a traitor, are you?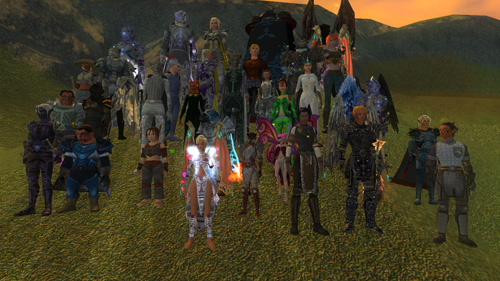 Everfrost: Kindred Souls Give Back Days Faire
Please come join Kindred Souls Guild on the Everfrost server for our yearly Give Back Days event. This event is to give back to the community and show our love for the game. You may also find a few special guests at this event.
Dates: July 14th & 15th
Where: Isle Of Mara ~ Everfrost Server
Time: 10:00 AM -6:00 PM CDT Both Days
Who's Invited: Everyone! Even if you aren't on the Everfrost server you can come join the fun and say hello. All are welcome!
Extra Fun Includes:
Duels of love~ Come Duel your friends and community in our designated duel area
Food Fights~ Ammo Provided
Special Random prizes will be handed out to people who show up in festive dress or costumes. So dress up and come join Kindred Souls as we give back to the amazing community that make this game so fun to play.
What types of things will be given out?
We have some fun things to hand out such as fun throwing foods and fun drinks but most of what we are giving will help players along the way so they can enjoy the game. We will have crafters on hand making gear and we will also be handing out things like backpacks, food&drink, mastercrafted sales crates, special furniture items, totems, potions, overclocked mana stones and much much more!
And to all fellow Norrathians, if you're planning a player event, please post in our Guide and Player Events forum and contact your Community Managers Amnerys and Dexella to let them know.