There are many amazing players in the EverQuest 2 community that spend time making the game more enjoyable for their fellow players. These players host events, create guides, run fan sites, provide feedback, answer questions, and/or design items and houses for everyone to enjoy. In the Norrathian Spotlight, we want to highlight some of these amazing individuals that make our community a fabulous place to be!
We asked for players to nominate fellow gamers they feel make a positive difference in the community and we've received a lot of forum posts and e-mails about some amazing people! In this Norrathian Spotlight article, we're highlighting Feldon, a player who has contributed to the community by helping players in-game, answering questions on the forums, and creating the EQ2Wire and EQ2U fan sites.
Let's talk about your sites!
Feldon: I'm the editor-in-chief of an EQ2 News & Commentary site called EQ2Wire. Every expansion I release guides, updates, an expansion FAQ, and an expansion interview. My best experience in EQ2 has been helping players in the EQ2 community stay informed about the game, pulling information from SOE Live panels, Twitter, Facebook, the forums, webcasts, interviews, and podcasts so it's all presented in one place. I feel like I'm writing for busy players, players who aren't into all the social media, and also for hearing impaired-players. Some of the content for the Altar of Malice expansion can be found here:
I also co-run EQ2U Players, a site that lets players view their own Characters, Guilds, Quests, Recipes, AAs, Achievements, Spells, Items, Leaderboards, and learn from others. If you asked me what I am proudest of in my EQ2 history, it would be our EQ2U Players site that Dethdlr and I have developed. Next February we'll celebrate the site's third anniversary and I'm still amazed at what we are able to show about Guilds and about Characters -- their Quests, Recipes, Spells, Equipment, AAs/Prestige, Achievements, Discoveries, Factions, Skills, and more. Some 10,000 characters are looked up every day on the site. Here is an example showing part of the Character screen: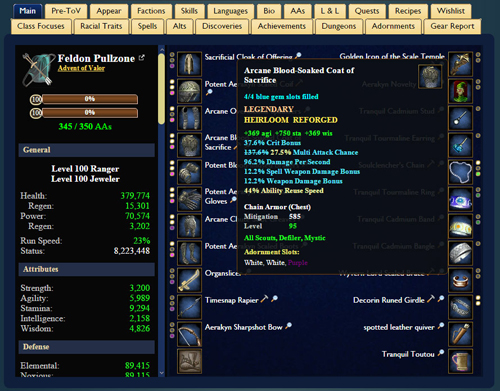 The various tabs at the top of the screen give you the ability to take a closer look at a character's statistics. For example, AAs are displayed just like they are in game on the AA tab, including the text in the popup boxes based how many points have been spent. This is a closer look at the Character AA screen: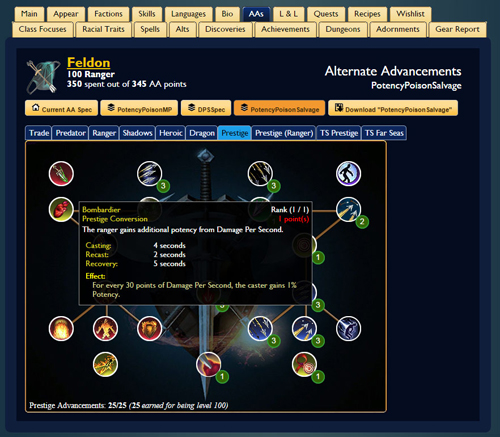 When you visit the site, make sure you also check out the new Altar of Malice Gemmed Gear Gadget. Are you searching for the perfect armor gem for your armor? This gadget can help you narrow down the possibilities quickly and efficiently! Just choose your class, a gem color, and the slot or stat you are searching for!
We are always listening to feedback and talking to players about how we can improve EQ2U, and constantly asking EQ2 developers for more goodies that we can add. I'm also happy to help anyone who wants to start their own Census-powered EQ2 site. It's not a competition and I think the more sites using this data, the better!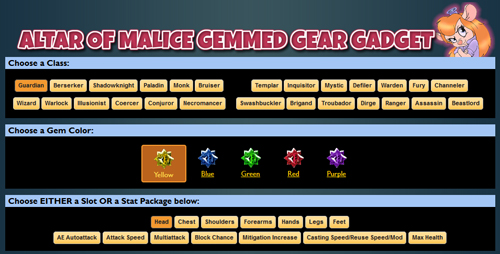 Afista: What are a couple of your favorite videos you have made? Do you have a Twitch channel?
Feldon: I don't use Twitch (yet) but I do have a YouTube channel where I post videos recorded from SOE Live. It takes 6-7 hours to post-produce each hour of video, from normalizing and edit the sound, to dropping in PowerPoint slides (if I have them). I recorded nine panels at SOE Live last year.
Afista: Where can players go to follow your updates?
Feldon: When I am in-game (admittedly not that often as all these endeavors keep me rather busy), I try to answer player questions in public channels including Antonia_Bayle.Homeshow, Unrest.EQ2Talk, and Test.Test.
In addition to following Feldon's updates on the EQ2Wire website, you can also find him on these social media sites: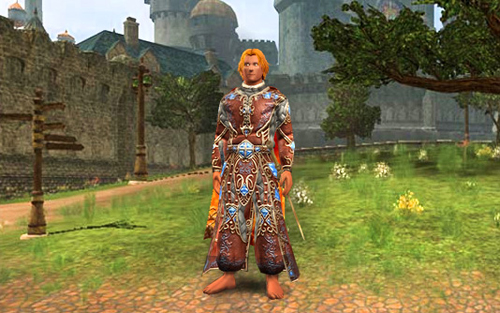 Let's talk about you!
Afista: Where in the real life world do you live?
Feldon: I'm currently living in South Carolina. Before that I lived for 2 years in Denmark. As you can imagine, the time zone difference made covering EQ2 as well as developing and launching EQ2U interesting, but it was all well worth it to get to see that part of the world. It was an unforgettable experience which offered me a unique perspective about how we live, how we work, and what's really important in life.
Afista: How long have you been playing EQ2?
Feldon: So I just looked it up and my first character (Feldon) was created on January 1st, 2007, which was about a month after Echoes of Faydwer launched. Believe it or not I never played the original EverQuest, so I guess I'm still a little behind on things! In 2008 I went to my first Fan Faire and I've gone every year since, with this year being extra special as I got to visit SOE and many of the EQ2 developers in San Diego prior to traveling to Las Vegas.
Afista: Which server do you play on?
Feldon: My home server is Butcherblock and my main is a Ranger. I also enjoy playing my Monk and Dirge as needed for guild groups.
Afista: How did you choose your main character's name?
Feldon: Feldon is a name I have been using for a long time and it just seems to have stuck. I enjoy the flexibility of being a Ranger, not having to stand in one spot and the freedom that I can do my job from a distance, while keeping an eye on what's lurking around the next corner. Also, much to the chagrin of my groupmates, I've always got a browser window checking on the forums, Twitter, and other venues for any late-breaking news. I also enjoy my Monk for similar reasons -- I can pick my battles and avoid trouble. Although I have to be a little more focused when I'm tanking!
Afista: What do you enjoy doing most in game?
Feldon: Around the time that Tears of Veeshan launched, I joined the same guild as Dethdlr. It's been a great place to run groups without the pressure to perform in a pick-up group. I occasionally miss raiding, but with all that I've got going on, I'm not sure where I'd fit it in! It's quite a commitment, but the euphoria of working together to beat a mob for the first time is hard to describe. So much of the Altar of Malice group zones are like mini-raids, that it does seem like the best of both worlds for those who like a challenge.
Afista: Do you enjoy crafting? What is your favorite tradeskill class? Why?
Feldon: I have four high level crafters: a Sage, Jeweler, Alchemist, and Weaponsmith. I created them to help out my guild with spell upgrades, jewelry, and weapons so we can keep up with new content. I raided some in The Shadow Odyssey and Destiny of Velious but these days, I consistently group a few nights a week and there are a lot of ways that crafting can help us survive while we are learning new zones. If I had one wish, it's that we'd get an optional new crafting window with a mini-game or mind puzzle rather than six buttons.
We want to thank Feldon for taking the time to do this interview with us. We're extremely thankful for EverQuest 2 player contributions that make this an amazing community to be a part of. If there's a player you'd like to see featured in an upcoming Norrathian Spotlight article, visit the forum thread HERE and let us know!