What's the best looking mercenary you've seen in Norrath? Your answer may change today, now that Songspinner Mercenary Crates are now available in the Marketplace!
Songspinner Mercenary Crates contain a random dirge merc. Don't get the one you're looking for? No worries! The mercenary token can be traded in for a hefty amount of status. Katastra Vilehex is the most elusive mercenary available can be found if you're extremely lucky when opening a Songspinner Mercenary Crate.
Mercenary crates are each 799 Daybreak Cash and look for discounts by buying bundles of crates at the same time in the Marketplace.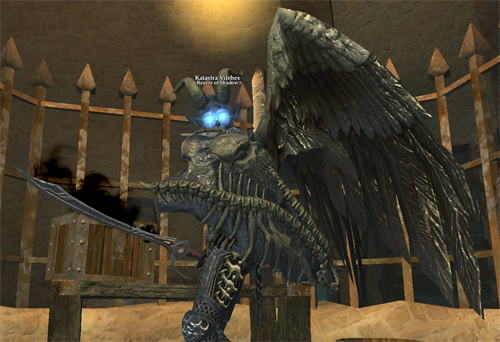 These crates are only available for a limited time! Don't miss your chance to pick up these unique mercenary appearances while you still can.
Martial Mercenary Crates Retired Tuesday, August 4
Each of these crates is only available for a limited time. This is the last week for Martial Mercenary Crates and your chance to get a random monk merc.
Martial Mercenary Crates will go into the Norrathian Vault at noon PDT on Tuesday, August 4, 2015.
Marketplace Additions for Stormhold and Deathtoll
These crates are NOT available on Time-Locked Expansion servers Stormhold or Deathtoll. Instead, we have some other neat additions for our TLE players!
Store mounts/armor screens:
Imperial Prowler (Green stone cat)
Malevolent Robe with Ethereal Prowler (both going on store from vault)
Meatbeasts! (Get your own Prankster's Bovoch)
Skeletal Prowler
Mermaid Scale Armor on a Revenant Dire Bear (both added to store)
Stormhold specific additions:
Potion of Quickened Steps
Personal Harvest Depots
Repair kits
Mystic Moppet Billy
Deathtoll:
Personal Harvest Depots
Repair kits
Appearance Tab will be enabled so appearance gear can be bought and purchased from the store.
We're always adding items to the Marketplace on EVERY server, so remember to check back even if there isn't something for you this week!