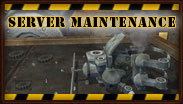 Important: Antonia Bayle and the US Battlegrounds will be offline for maintenance beginning at 4:00 AM Pacific* on March 22, 2012. In addition, Antonia Bayle, US Battlegrounds and Nagafen chat will be unavailable during this time.
We expect this downtime to last for approximately 10 hours.
We apologize for this interruption and will bring the servers back online as soon as the maintenance is completed.