The skies darken and a blustery wind blows across the land, sending shivers down the spines of all Norrathians. Though it was long ago, the memory of the undead assaulting the city of Maj'Dul is strong. And goblins and ghouls and all things frightful are once again emerging from the shadows on the anniversary of this event! It's time for Nights of the Dead!
Whether you're the crafting kind or a daring adventurer, there are new and exciting additions for 2012 as well as returning favorites! There's something for everyone as all of Norrath comes together to enjoy this holiday!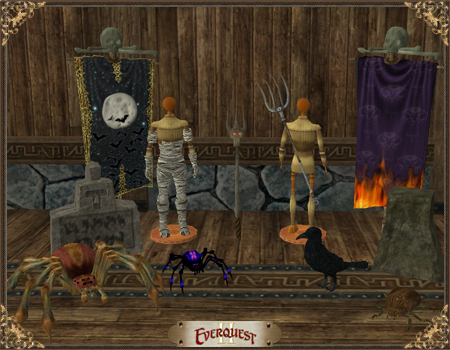 Here are the New Features for 2012!
New Ghost Hunter competitions in Commonlands and Antonica!
New version of the "Nights of the Dead Devotee" quest rewards a dedicated jack-o-lantern pet!
Added "Nights of the Dead treats" (candy) to drop as loot from Skyshrine, Withered Lands, Qeynos, and Freeport undead and creepy crawlie beasts.
New illusions added to the Gigglegibber Goblin unpredictable illusion costume.
New costume illusions available from holiday merchants.
New rewards for some of the old Nights of the Dead Events!
"The Haunting" (Repeatable daily) – New reward choice: bristly spinner
"This Won't End Well..." (Repeatable annually) – New reward choice: Ghoulish Night Banner
"There Will Be Ghosts" (Repeatable) – New reward choice: carrion beetle
"A Nightmarish Return" (Repeatable) – New reward choice: Hollow Banner of the Hedge
"Train to Zone!" (Repeatable daily) – New reward choices: Scare Crow & Cave Spider Plushie
"Survive the Night" (Repeatable annually) - New reward choice: Moldering Mummy Wrap armor set
New house items sold by Nights of the Dead Merchant.
New holiday recipe book "Celebrations of the Dead V" available from holiday merchants.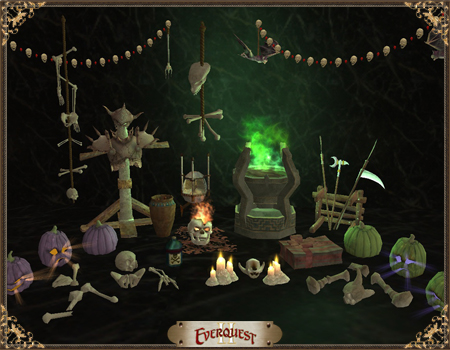 And here are just some of the returning favorites!
Haunted house in Qeynos and Freeport.
Ponchy's quest line in Antonica.
Gigglegibber Goblins in the player cities that cast illusion costumes.
Haunted Mansion in Loping Plains that is accessible by all cities and by all levels of players.
Multiple quests and events in the Nektulos Forest, including the Headless Horseman Epic X2 Event and the Haunted Hedgemaze Zone, which is accessible by all cities and levels.
Undead and creepy crawlie beasts drop "Nights of the Dead treats" which can either be exchanged for event coin, sold to merchants for coin, or used in tradeskilling.
And MUCH more!
The Nights of the Dead will be celebrated across Norrath from Thursday, October 11, 2012 through Monday, November 5, 2012 on live servers. So sew up a costume or buy one from a local merchant and join the frightful fun!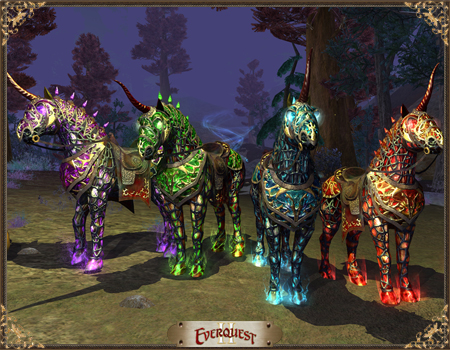 Also, be on the lookout for frightfully fun items in the Marketplace, including a herd of unicorn mounts! One new unicorn mount will be released each week.
Visit these fansites for extra details and additional information about Nights of the Dead in EverQuest II!