In addition to events that happen seasonally and those put on by the Community Team, there are also a number of special events happening both in-game and on the web that EverQuest II community members are invited to participate in. Here are two special events happening in August!
MMOUI's 10th Anniversary Celebration!
Begins August 16, 2012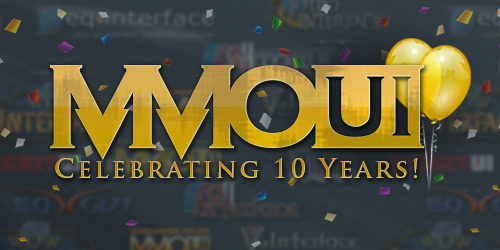 MMOUI is celebrating our tenth anniversary, and we just wanted to say thanks for a fantastic decade! From the first user created interfaces in MMORPGs to the current day, MMOUI (EQ2Interface) has been here! We've got eight sites covering nine games, we're Official Fan Site members for almost every game we support, and we've got nearly a million registered users (with an exponentially higher number of unregistered ones). But what's a celebration without games and giveaways? Go to EQ2Interface to see the challenges and try for your shot at one of the giveaways!
Pay It Forward!
Saturday, August 25, 2012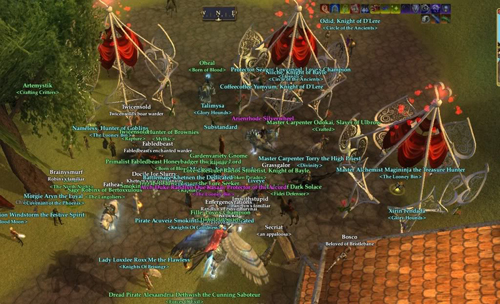 Pay It Forward began on the Freeport server. The event is an opportunity for adventurers and crafters to meet on the Isle of Mara and donate goods to young adventurers. The only requirement is that in return for the in-game loot they receive, these individuals will perform some random good deed for a stranger. For more information about Pay It Forward in general, visit this post in the forums.
Here are the specifics for the upcoming Pay It Forward event:
Who: Anyone who cares to help make their server a better place, and has items to give away (crafted or not)
When: Saturday, August 25, 2012 at 1:00 pm (PDT)*
Where: Isle of Mara, next to the crafting houses just off the docks**
*For Unrest players, the event will begin at 10:00 am PDT; Splitpaw will have the event at 4:00 pm GMT. Convert to Your Local Time.
**For Nagafen players, please meet up on Moors (there will be immunity there so players can enjoy the event)
Hosts: Each server has a volunteer host who you can contact for more information. Here is a list of participating servers:
Freeport – Fille
Nagafen – Jarack
Guk – Kattapault
Everfrost – Gems
Antonia Bayle – Taysa and the Knights of Freeport guild
Butcherblock – Hykata
Unrest – Lynarra and Darkpit
Permafrost – Arkix
Splitpaw – Giavania
If you do not see your server listed and want to volunteer as a host, please visit the forums and speak to Fille.