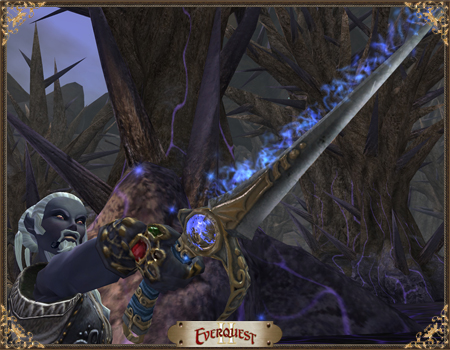 Greetings Norrathians!
Now that Qeynos Rises is live, we're switching gears to a year-end expansion and working on live content and bugs. In addition, here's some news for August.

TINKERFEST July 29 to August 8

Tinkerfest returns! You will find event locations in Freeport at Inventor's Outlook and in the Qeynos Capitol District at Inventor's Threshold. There are also new rewards on the quests and the Tinkerfest merchant has new items – including six tinkered-theme mounts.

Ethereal Weapons Fall in Summer

A rumor has begun to spread across the world of Norrath. As with any rumor, it started out on the lips of a few which many dismissed outright. However, these stories of weapons appearing through Norrath were told and retold, stories of weapons of great power seemingly formed from spiritual energy. Can these whispers of legendary artifacts be true? If so, whatever spiritual rift that is bringing these weapons into Norrath isn't likely going to last long. Go forth, heroes of Norrath, and see if you can discover one of these powerful weapons before they vanish from our world once again!

Step Right Up!

We are adding a feature where you can play instanced mini-games to win random loot in game! You purchase a ticket that gives you access to a mini-game instance. Should you beat the simple, fun game, you receive a random reward from a chest, or opt for tokens you can spend on items available on a merchant. We will be selling the tickets for Station Cash in the marketplace.

SOEmote Your Way

SOEmote is finally ready to go live on August 7! After showing the feature at E3 in Los Angeles earlier this year and getting a lot of interest and feedback, we opted to spend more time developing it to make it fit easily into the game experience so it felt fun, natural, and easy. You will find the SOEmote listed in the main EQII menu in game, as well as in the game Options. Some features we added are:

-Auto-Enable SOEmote with Webcam. To start with, we wanted the feature to be easy to use. If you have a camera set up, SOEmote will automatically send you a message to enable the feature and options when you log in. After that, when you log in with a webcam, you will be reminded that the feature is active.

-SOEmote Group Window: Included by default if you set up SOEmote, you can easily watch group members' faces next to their names in the user interface.

-Mini-Chat Bar Additions: We integrated SOEmote buttons into the mini-voice chat bar under the chat window for easy use and access.

-Mirror Me: As we've been using SOEmote in the studio a lot, we wanted a quick and intuitive way to be able to see ourselves (because it's fun) and also to ensure SOEmote is calibrated without having to use the large set-up window view. With this addition, you see a small version of yourself with a quick Calibration button to set the default facial tracking position for those times when you leave your PC and return. TIP: When calibrating, make sure your own face is in a neutral position with no smile, eyes open and no expression. You get the best results this way!

- Voice Chat/SOEmote Options: We took some time to work on the usability of the existing voice chat controls as we integrated the SOEmote options. It seemed natural for us to pair voice chat and SOEmote options together.

- Local Proximity Chat in Guild Halls and Houses. With SOEmote or Voice Chat activated you'll have the option to join a Local Channel so you can listen and talk based on your location just like walking and chatting into a room in real life.

- Voice Fonts. We added a selection of voice fonts for male and female voices for you to experiment with in the main SOEmote set-up options. You will find the voice font selections in a drop-down list. We also added an option to record and play back your voice so you can hear how it sounds with a font.

- FAQ. We wanted to add a fairly deep FAQ for SOEmote to help users with common questions. We can tell you now that if you are experiencing issues with tracking your facial movements, try increasing your lighting! And if that fails, you might want a better camera. We list the camera we use in the FAQ and link to an offer for good cameras.

We are really excited to have the community jump in and use SOEmote. As we've always said, with EQII as a role-playing game, we want to support players who want to become their characters! With our partners with SOEmote, Image Metrics and Vivox, we really hope you enjoy it and build incredible experiences from it. More than anything, we want to see all the creative ways that you, our imaginative players, use it. Look for a contest soon asking you to submit your own SOEmote videos through our in-game YouTube feature!
Holly "Windstalker" Longdale