Dungeoneers time is running out! There are 5 days left!
Dungeons made by EverQuest II players have impressed, inspired, and amazed us. We can hardly wait to see what you will do with the recently released Poet's Palace Dungeon layout. To offer everyone a chance to show off their dungeon decorating skills, we're pleased to announce the Poet's Palace Dungeon Maker Forum Challenge!
We have had a lot of fun with Dungeon Maker and hope that you are enjoying it as well! Our team is committed to developing it further over time, with initiatives such as playing as your own character in the future. We outlined a few of the things we're working on in the May Update Plans for EQII article, so check it out! Creating new ways to enjoy EQII is one of our driving goals!
The Poet's Palace Dungeon Maker Forum Challenge is a decoration and design challenge. Participants can build their dungeon on any Live Server or the Test Server, subject to the rules below. The Poet's Palace dungeon layout can be purchased on the Marketplace for the low price of 75 Station Cash or 100 Dungeon Marks!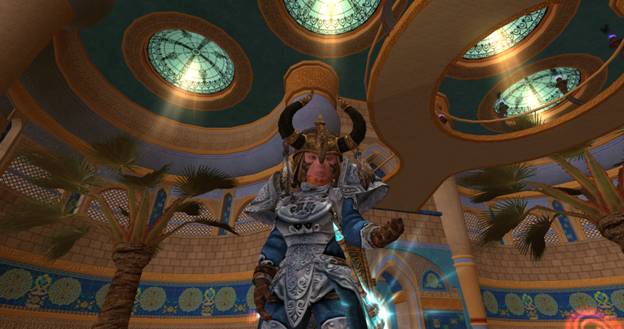 Brasse says, "Whooo, thar's a LOTTA real estate ta fill here! We'll need a ruddy army o' carpenters!"
HOW TO ENTER:
Decorate and populate your Poet's Palace dungeon layout!
Make sure that your dungeon is published when you enter the challenge, which sets it to public level access. If it is not published, we can't get in to evaluate it!
Submissions for this forum challenge will be open from Friday, May 25th, 2012, until 11:59pm PDT, Sunday, June 10th, 2012.
This gives you just a little more than two weeks to build or fine tune your dungeon, and gives us two weeks to complete the evaluations.
The winners will be announced on June 26th, 2012!
To enter, respond to this thread with the following information: (note, add forum link to "this thread")
Character Name:
Server:
Published name of published Poet's Palace Dungeon:
Brief description of the theme, max 100 words:
Screenshots: at least 1 and up to 4 web-ready screenshots (.jpg .gif or .png), either posted in this thread or linked. Screenshots must be no larger than 800x600 pixels!
Optional: a link to a video of your dungeon, no more than three minutes in length.
If selected to be in the top three dungeons, we will request a short text interview and an image of your character (and rl pic if you so choose).
RULES:
This event is subject to our Official Forum Challenge Rules, so please review them!
Additional notes below apply:
Participation is limited to one per person, not by character or account, i.e., you cannot participate with different accounts or characters.
All submissions must be based on the Poet's Palace layout in order to qualify.
If the dungeon is not published (public access) during the evaluation period, it will automatically be disqualified.
Prizes have no cash value and must be accepted as awarded.
All decisions made by the Evaluation Committee are final, and we will not enter into debate regarding the relative merits of individual entries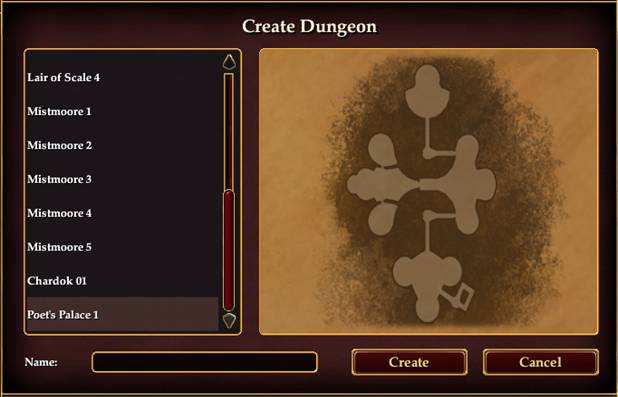 Here's the Poet's Palace layout – lots of opportunity to create a fun dungeon romp!
PRIZES:
All ten finalists will receive:
The in-game title, "The Dungeon Maker" on the character that created the dungeon
A set of Heritage Armor of your choice
2,000 Station Cash
The top three dungeons will also receive an ultra rare house and mount each from our Legends of Norrath trading card loot (Priestess of the Anarchs set):
Residence of Blades Deed of Ownership
Sun-Blazoned Pegasus
Listings as the first "Dev Picks!"
We'll immortalize the creators of the top three dungeons (and list the top ten) in an EQII website article!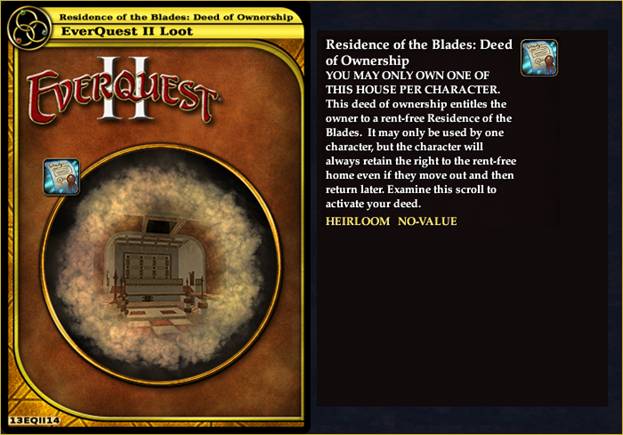 Just whut ye need, anodder house ta decorate – ye KNOW ye want this rare jewe!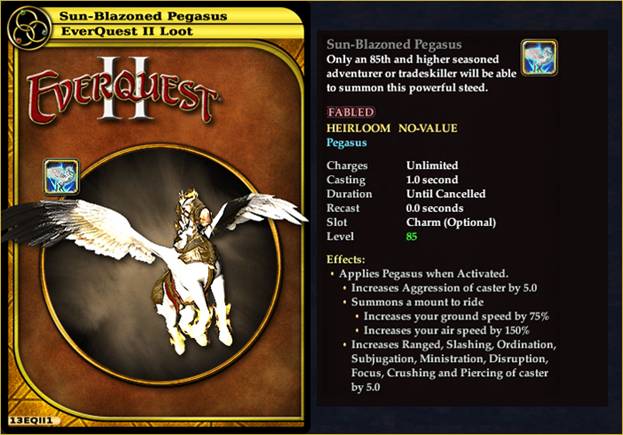 Be part of an exclusive group to own a gorgeous flying mount that very few people have earned in LoN!
DUNGEON EVALUATION:
So how can you best position yourself to make your dungeon really stand out? We're looking for creativity, originality, and action in our winning entries!
Creativity (35 points) – We're not looking for dungeons with the most expensive or rare items, nor for the largest collection of boss mobs. It's about what you do with what you've got!
Originality (35 points) – Are there unifying themes to your dungeon? Does the décor suit the denizens? Is there an interesting progression or story to be told?
Thematic Content (30 points) – This category is all about the ACTION! Are the creature groupings fun? Well placed? Entertaining? This is definitely not a competition for a "max-your-marks dungeon" with packs of 4 mobs piled on top of each other!
Over the course of the two weeks after the contest closes, our evaluation team will be fighting through your dungeon, gaining battle scars and insights into your design!
The top ten dungeons from across all servers will be selected by the SOE Volunteer Guide Program and Community Relations Team. We will play through the dungeons, so action counts!
The top three will be selected from the ten finalists by the SOE EQII Dev Team!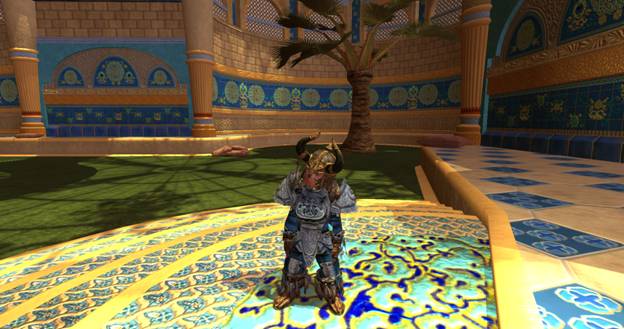 Brasse asks, "So, how will YE design yer Poet's Palace dungeon? We kin hardly wait ta see 'em!"