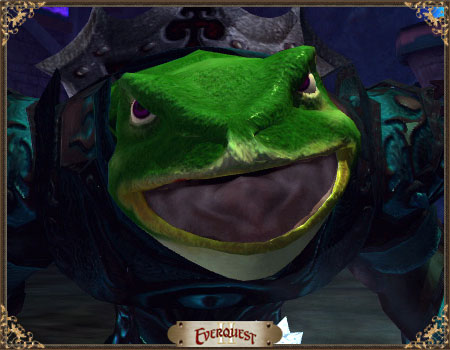 I think you have a bit of a frog in your throat…
Have you ever wished you could nod your head yes to a conversation, or tilt your head to the side to give your raid leader that look that says "Are you crazy?" Do you wish you sounded more like a Gnome than a human in raid chat? You'll soon be able to express yourself clearly with SOEmote!
In EverQuest® II, your player character will soon spring to life using your facial expressions and altered voice. If you frown and growl on your webcam, so will your avatar. Laugh and your avatar laughs with you! It's all possible with the phenomenal new feature called SOEmote™ that truly animates your character's face in real time!
Amazing voice fonts are offered to replace your voice in chat with something slightly or completely different, allowing you to immerse yourself in roleplay without worrying what you sound like in real life!
Check out this interview with Executive Producer Dave "Smokejumper" Georgeson at PC Gamer to learn more, and visit our YouTube page to see our exciting preview of this feature!