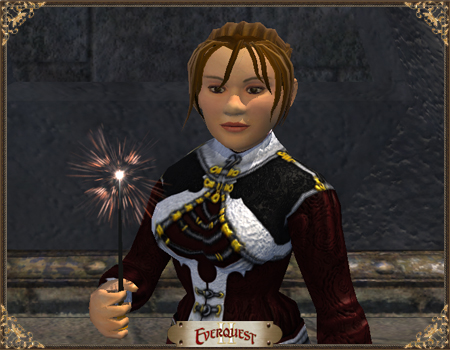 Celebrate the upcoming long weekend of July 1st to 4th with a massive Marketplace sale and in-game fireworks festival!
From July 1st through July 4th, visit the Marketplace in EQII and collect your FREE festive sparkler! Then make your way to North Qeynos, West Freeport, Neriak, Kelethin, Gorowyn, or New Halas and talk to the festival fireworks coordinator to offer your assistance setting off the festive fireworks all over the city. Earn a different fireworks launcher in each city, which you can use to decorate your home or guildhall!
| | |
| --- | --- |
| | |
| Freeport Launcher | Gorowyn Launcher |
| | |
| | |
| Halas Launcher | Kelethin Launcher |
| | |
| | |
| Neriak Launcher | Qeynos Launcher |
While celebrating the festival, take advantage of the massive Marketplace sale (this weekend only) and pick up some fancy festival gear! All cloaks will be on sale for up to 25% off the normal price, as well as some backpacks and a selection of ground mounts. Dress up in style and come join the celebration!
Item Name

Was

Now

Cloaks

Cloak of Moonlight Reflection

750

600

Cloak of the Transcendent

750

600

Shroud of the Oak

750

600

Cloak of Irresistibility

750

600

Traveler's Cloak of Guidance

600

450

Djinn Scholar's Cloak

350

250

Cloak of Stained Glass Replicas

600

450

Cloak of the Aurora

700

550

Cloak of Woven Nature

500

400

Mermaid Scale Cloak

350

250

Bags

24 Slot Bag (Freeport Server)

150

100

Velious Explorer's Backpack

750

600

Adventurer's Backpack

750

600

Ground Mounts

Arcane Steed of the Faithful

950

750

Fierce Steed of the Faithful

950

750

Blue Nightmare with Blue Saddle

750

550

Onyx Armored Rhino

750

550

Arcane Battlehardened Fire Warg

950

750

Fierce Battlehardened Fire Warg

950

750

Consumables & Services

Guild Rename Potion

2450

2000

Race Potion

1450

1250

Potion of Disgenderment

750

600

Potion of Amnesia

950

750

Norrathian Witness Protection Pack

1750

1400

Potion of Vitality

950

475

Superior Potion of the Advanced

950

475

Furniture

Cherry Grove Vanity Accessories Set

300

225

Cherry Grove Vanity Basics Set

200

150

Cherry Grove Sitting Room Set

700

500

Cherry Grove Office Accessories Set

400

300

Cherry Grove Complete Office Set

750

550

Cherry Grove Bedroom Set

800

600

Cherry Grove Dining Room Set

400

300

Castellum Living Room Furniture Set

375

300

Castellum Office Furniture Set

600

450

Castellum Dining Furniture Set

500

375

Castellum Bedroom Furniture Set

400

300

Castellum Vanity Furniture Set

375

300

Ebony Complete Vanity Set

600

450

Ebony Dining Room Set

400

300

Ebony Sitting Room Set

800

600

Ebony Bedroom Set

700

550

Ebony Complete Office Set

800

600