Whether you want to portray a scholarly essence in your attire or in your home, the Djinn Scholar's Cloak and the Castellum Office Set both have a certain "educated" flair that will surely enhance your style.
Djinn Scholar's Cloak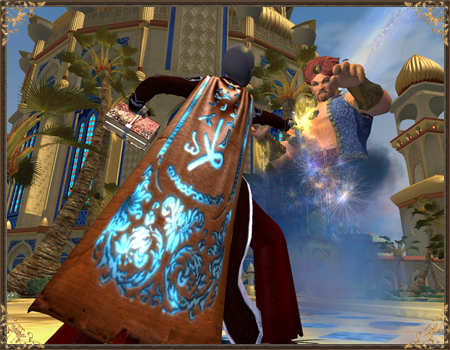 Those hours of studying were worth the effort. Show off your scholarly status with a Djinn Scholar's Cloak, emblazoned with glowing blue runes and embroidery. When activated, the cloak's Rune of the Scholar effect will surround you with swirling runes, while Featherfall will keep you landing safely should you find yourself perilously perched atop...something tall. Purchase yours at this week's special price -- 1100 Station Cash.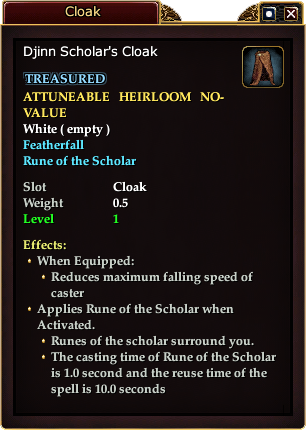 Castellum Office Furniture Set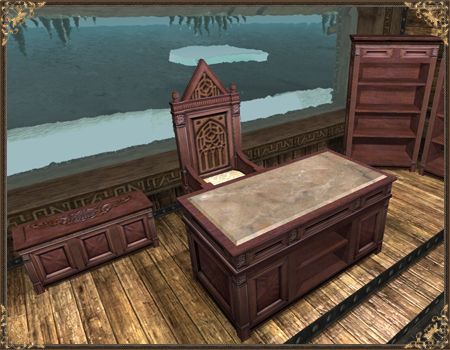 Made of elegantly carved dark-toned wood, the Castellum Office Furniture Set includes a storage chest, two bookcases, a desk and a chair. The marble desktop enhances the noble look of the set, and the chair is truly fit for a king, or for any citizen who wishes to do their writing in style. The set can be yours for a special price this week -- 1200 Station Cash.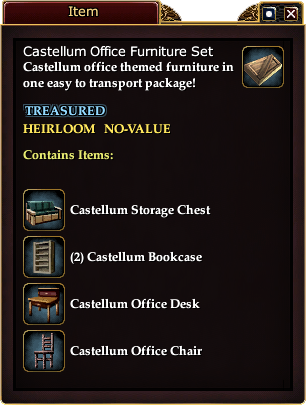 To buy any of these items and more using your Station Cash, type /marketplace in game, or click on the EQII button and select Marketplace from the menu.
Need Station Cash? Look for a Free Realms Station Cash card at your local retailer (it works for all SOE games), or visit the Station Cash page for more information and FAQs.