Finally, a set of armor for those who are tired of black, dark and evil-looking attire. Polish up this gold and white ensemble and show Norrath that you're not hiding any of the bloodstains from those who got in your way.
Antonican Crusader Armor Crate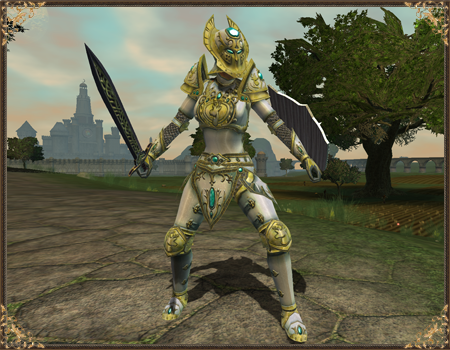 Antonican Crusader Armor For Her
For those of the goodly and noble disposition, the Marketplace humbly presents the Antonican Crusader Armor Crate for your consideration. This white-and-gold-themed armor set lets everyone know that you're fighting on the side of Antonia Bayle...or that you just prefer the way you look in white. The crate comes with gauntlets, greaves, helm, sabatons, spaulders, bracers and cuirass. The armor pieces within the set are treasured, cloth, attuneable, heirloom, and appearance-only. Get your crate today for 1250 Station Cash.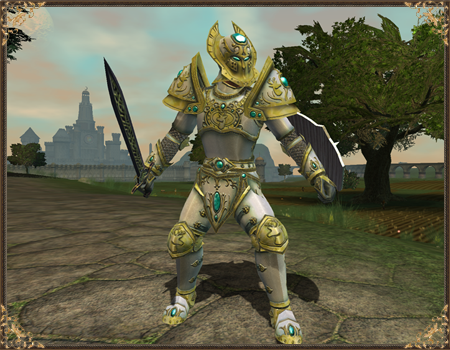 Antonican Crusader Armor For Him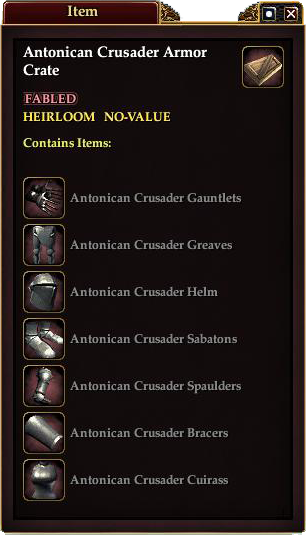 To buy any of these items and more using your Station Cash, type /marketplace in game, or click on the EQII button and select Marketplace from the menu.
Need Station Cash? Look for a Free Realms Station Cash card at your local retailer (it works for all SOE games), or visit the Station Cash page for more information and FAQs.