Last week the following items were introduced to the EQII Marketplace. Check out our newest cloak and the updated Potions of Advancement.
Cloak of the Aurora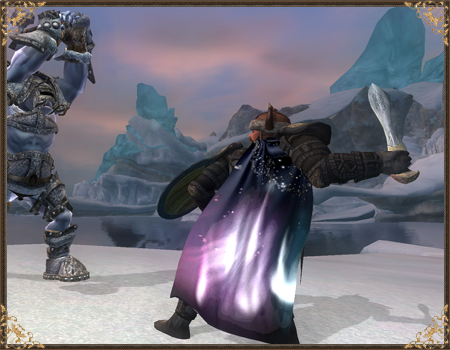 This gorgeous cloak is fashioned after the beautiful aurora sky. You really must see it in person to get the full effect of it's beauty, so try one on in the Marketplace window today! The cloak will reduce maximum falling speed when equipped. Cloak of the Aurora sells for 1500 Station Cash.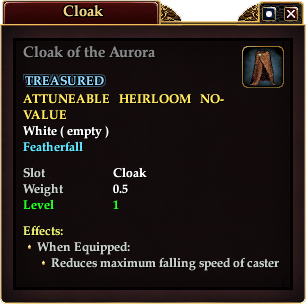 Potions of the Advanced
These potions replace their older versions, previously sold as an Achievement XP potion, Tradeskill XP potion, and Adventure XP potion. The new versions will grant a bonus to all three types of XP at once, and come in the Minor (25%), Greater (50%) and Superior (100%) varieties. Anyone who had bought previous versions will magically get the newest equivalent in their place.
You must be higher than level 10 to use these potions. They are heirloom items and last for two hours. Minor Potion of the Advanced is priced at 100 Station Cash. Greater Potion of the Advanced is priced at 300 Station Cash. Superior Potion of the Advanced is priced at 1000 Station Cash.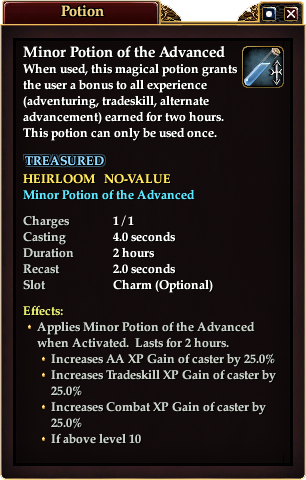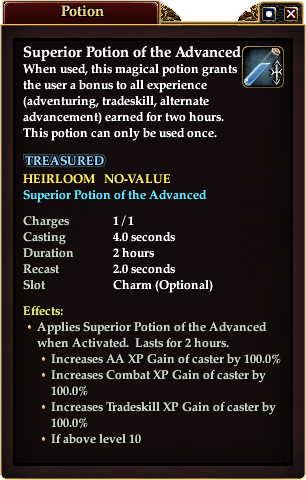 To buy any of these items and more using your Station Cash, type /marketplace in game, or click on the EQII button and select Marketplace from the menu.
Need Station Cash? Look for a Free Realms Station Cash card at your local retailer (it works for all SOE games), or visit the Station Cash page for more information and FAQs.