SOE FAN FAIRE COSTUME CONTEST - 2010
As Fan Faire rapidly approaches, there's one very important part of the festivities that we have yet to highlight!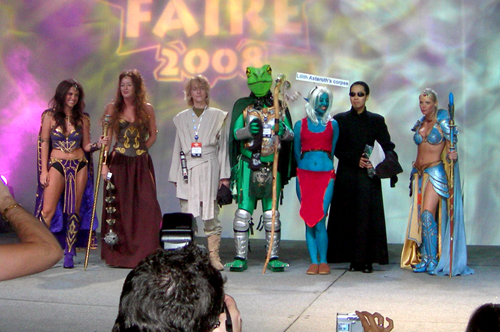 The ever-popular SOE Fan Faire Costume Contest will be returning this year, and it's better than ever.
We've got a schedule and everything!!
The magic happens on Saturday during the Grand Banquet (the Fan Faire schedule can be found here).
8:00pm-8:45pm - Banquet opens and Costume Contest Entries are accepted. (Advance entries can be filled out at the Community Table in the main hall.)
8:45pm-9:00pm - Entries conclude and the judges confer.
9:00pm - Contestants take the stage to show everyone their awesome costume work and we pass out the awards.

There are four categories for judging:
Judges' Choice
Kid's Category – 14 and under
Master Crafter
People's Choice – to be determined by the audience
We'll also pick two Honorable Mentions from amongst the above four categories.
There will be 1st, 2nd, and 3rd place winners picked for each category. You can only win once, though!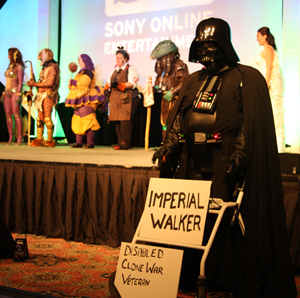 The best part of the contest? Prizes!! Those are a surprise though, so you'll just have to enter to find out what they are.
You can check out previous years' Fan Faire pictures (including Costume Contest photos) at our 2008 and 2009 Flickr pages! Check back after Fan Faire to see pictures of the 2010 Costume Contest.