The weather outside might be frightful, but the Norrathian streets are decorated and the citizens are so delightful! The Gigglegibber goblins and Frostfell elves are spreading cheer throughout Norrath this season and encouraging players to visit the Frostfell Wonderland Village. You can access the Wonderland through the Magic Closets in Qeynos Province District, Freeport, Haven, Kelethin, Neriak, Gorowyn and New Halas. In addition to the return of your favorite Frostell festivities, you can also look forward to plenty of exciting new content this season!
Fun Quest!
There's a brand new quest this year, The Great Candy (Cane) Chase, offered by Frestishan in the Frostfell Wonderland Village. Watch out for presents along your way as you speed around the ice and recover candy canes from Frostfell cubes! Collect enough cubes to unlock a new achievement and receive some tokens to spend at the holiday merchants. Norrathians who help Frestishan each day can also unlock some other special holiday rewards, so don't miss this quest!
More Craftables!
For those that have a talent for crafting, you can help Sogs Frostfoot with the "Frostfell Decoration Committee: Permafrost!" quest, or craft wondrous new Frostfell goodies. Tradeskillers can create classic house items, clothing, and equipment by gathering components from presents and visiting the Frostfell crafting stations throughout the Wonderland Village. There are lots of new craftable items this year, including an Ice Brick building block set, fabulous Chillburn appearance weapons, lovely decorations, and fun plushies. Make sure you visit Frostfell merchants Giddlenerf, Guhtosle, Giggawat, or Garsleblat to pick up the three new recipe books so you don't miss out on crafting these joyous new items!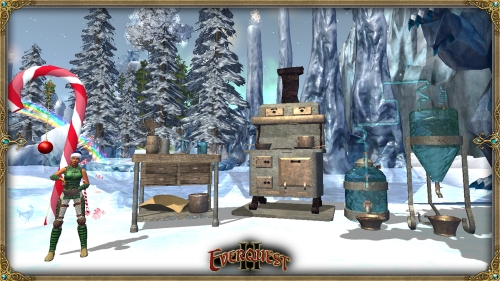 Festive Presents!
Don't forget to log in each day and claim your extra-special Frostfell present from everyone's favorite Frostfell Gigglegibber, Santa Glug! He's been a busy goblin this year and added seven new presents to his already large bag of goodies. Joining some of your other favorite items, these new presents are sure to inspire some holiday cheer! There are new snowglobes to add to your collection, as well as some snazzy Cinder Elk Antlers that will make a statement at any holiday celebration. Are you struggling for holiday gift ideas for friends and guild mates this season? Passing along some of Santa Glug's gifts just might brighten someone else's Frostfell! The White Poinsettia Flower would make a lovely host guest while attending holiday gatherings, and the Pine Scented Incense Burner could enhance the holiday spirit in any Norrathian home. There are 15 different gifts you might receive this year, so don't miss your chance to receive some of these cheerful items!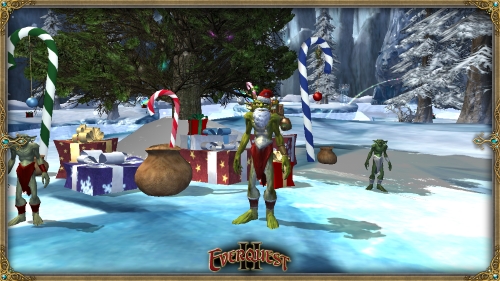 New Merchant Items!
Have you been longing for your very own Reindeer mount to go dashing through the snow? What about adding some new decorative Ice Sculptures in your yard? Well, the Frostfell merchants have restocked their wares with festive Frostfell goodies that will positively brighten your holiday season! Make sure you visit Gerbi Frostfoot and Giggawat or Garsleblat in the Frostfell Wonderland Village to obtain eight new items that are available!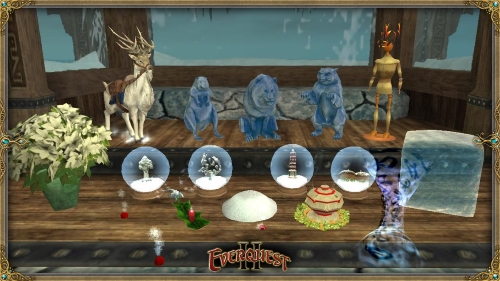 In addition to the new Frostfell fun heading your way, you can also look forward to the return of your favorite Frostfell activities from previous years!
Quests, Quests, Quests!
Once inside the Wonderland Village, make sure you speak with Jingle and complete A Deepice Mystery quest to thaw out some of your favorite questgivers. Once thawed, you can assist the Frostfell NPCs with some festive holiday tasks. Don't miss your chance to experience some true holiday fun! Some of your favorite returning quests include:
"A Deepice Mystery" quest offered by Jingle
"Merry Mischief" quest offered by Candice Cheriweth
"Raiding the Gifty Storehouse!" quest offered by Gardy Ex-Giftgiver
"A Frostfell Favor" quest is offered by Mr. McScroogle
"Saving Frostfell" quest is offered by Queen Bunny
"The Giftgiver's Dilemma" offered by Gardy Ex-Giftgiver
"Mission Improbable..." offered by Aildiun Mawdrun
"It's Time to Sleigh the Dragon!" offered by Snarf Frostfoot
"An Exalting Experience!" offered by Aildiun Mawdrun
Fun in the Cities!
The Frostfell Wonderland Village is not the only place that is merry this season; festive decorations can be found in local cities and various areas around Norrath! Do you want to lend a hand putting up Frostfell decorations? Then look for the Decoration Additions quest to add some cheer to the décor in your home city and earn a reward that can make your own home a little more festive!
"Feelin' Gifty in __" quests offered by G'shugahplum
"A Gigglegibber's Work is Never Done" quests offered by Gh'lad Tydingz
"The Tale of the Gigglegibber Grump" quest line is offered by Pinchy Presentpeeler in Qeynos or Freeport.
"Frostfell Candy Grab: Antonica" offered by Snowball in Antonica.
"Frostfell Candy Grab: Commonlands" offered by Crumpet in Commonlands.
Collectibles!
Make sure you keep your eyes on the lookout for shiny objects while visiting the Frostfell Wonderland Village and Icy Keep zones. Harvesting these limited-time collectibles will yield parts of the frost-bitten toes collection quest!
Adventures with Friends!
The Frostfell Wonderland Village is still flyable and frozen over, creating the perfect skating rink for players who want to have a slippery good time. Harvestable snowballs make great ammunition for players who want to send their friends skidding across the ice!
Sturdy Fruitcake can also be gathered throughout the world and used for an impromptu food-fight. But, be cautious who you aim your fruitcake at. If you hit another player with your holiday harvested cake, it puts the fruitcake into their inventory, giving them ammo to throw themselves!
Once you're done with the ice skating and food flinging, you might also decide to join your friends in the exciting Permafrostfell group dungeon. 'Tis the season for holiday cheer, so grab the nearest Frostfell elf and start celebrating!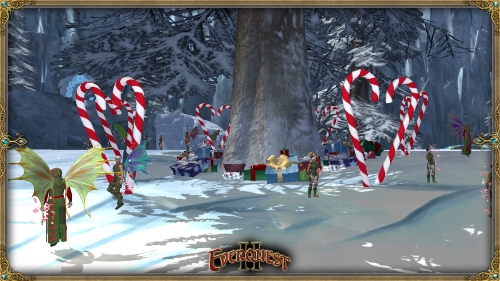 Are you excited about the holiday season yet? It's time to grab your seasonal robes and fuzzy caps, because Frostfell begins on Thursday, December 11. The event only runs until January 8, 2015 at 7:00am PST, so don't miss your chance to partake in some seasonal fun!
Players can also visit these Fansites for more information about the special Frostfell holiday events and items:
What are you looking forward to this Frostfell?