Flowers are blooming and love is in the air once again. Erollisi Day might have originated with the Sentries of Erollisi, faithful devotees to The Goddess of Love, but it's blossomed into a holiday that's celebrated by Norrathians across the lands! Whether you are a hopeless romantic or a love cynic, this holiday has events you're sure to enjoy. Take a look at all of the exciting events taking place this Erollisi Day!
Exciting Quests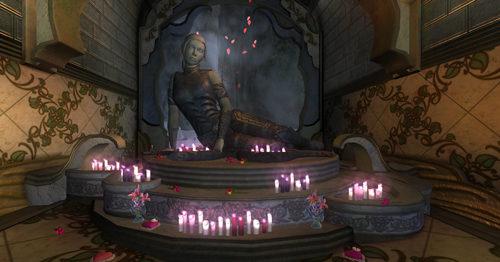 No event is complete without fun quests to capture the spirit of the holiday. This Erollisi Day, all of your favorite seasonal quests will be returning to help make the season memorable! There is much to do for love in Antonica, the Commonlands, and the cities of Qeynos, Freeport, and New Halas during this celebration of all things romantic. This year, there's also a call for lovers and the often infatuated to visit Lavastorm, the Great Divide, and the Thundering Steppes. Answer this call and strengthen the ties of love throughout Norrath by completing these new quests:
Could It Be Magic?
A Cold-Hearted Snake
I Melt With You
Don't forget, rose and chrysanthemum petals can also be collected in Antonica, the Commonlands, Qeynos, Freeport, New Halas, and the Enchanted Lands to complete the "Romantic Flower Petals" collection quest!
Merchant Items and Rewards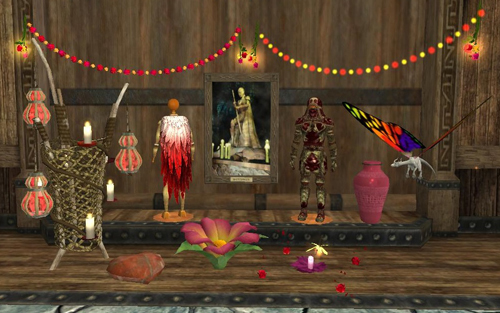 Are you a love bird looking for a stylish new cloak? How about a comfortable heart pillow or unique lighting fixture to help set the mood in your love nest? Well, completing the new holiday quests this year will yield some fabulous new rewards. The Hearts a'Flutter contest is now also offering Golden Rose Garland decoration that is sure to enhance the décor in any room, so don't miss your chance to complete these quests!
While you are out adventuring the lands this Erollisi Day, make sure you also keep an eye out for love notes or message candies. This love loot can be used to craft holiday tradeskill recipes or it can be exchanged for Erollisi Coin to use to purchase special seasonal items. Be sure to visit Douglas, the holiday merchant, and take a look at the eight romantic new items he's selling this season!
Festive Craftables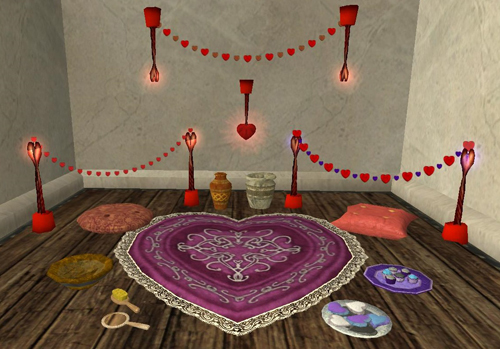 Surprise your Erollisi Day sweetheart with a hand-crafted gift instead of a merchant-stocked item this holiday! Whether you want to bake a plate full of goodies for a friend or cover your significant other's home with rose cordons, there's an assortment of new items to let your loved ones know you care. Steven, the merchant in Qeynos Province District and Freeport, carries the holiday themed recipe books you'll need in order to learn how to craft some of these festive new items.
Titles and Achievements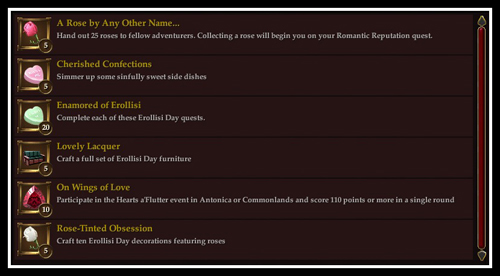 Do you want to outshine Romeo with your display of love? Harvest Erollisi roses in The Enchanted Lands to begin the "My Romantic Reputation" quest and give those roses to other players to earn some romantic titles! For players that are not inclined to spread the love this season, there is also an assortment of other achievements available to obtain. If you enjoy unlocking achievements, then make sure you don't miss your chance to complete these seasonal conquests this Erollisi Day!
Want to learn more about the events and rewards available this Erollisi Day? Take a look at some of the helpful guides available from these fabulous Fansites:
Erollisi Day begins at 12:01am PST on Thursday, February 5, 2015 and ends at 11:59pm PST on Wednesday, February 18, 2015. These events won't be around for long, so don't miss your chance to share in the love!