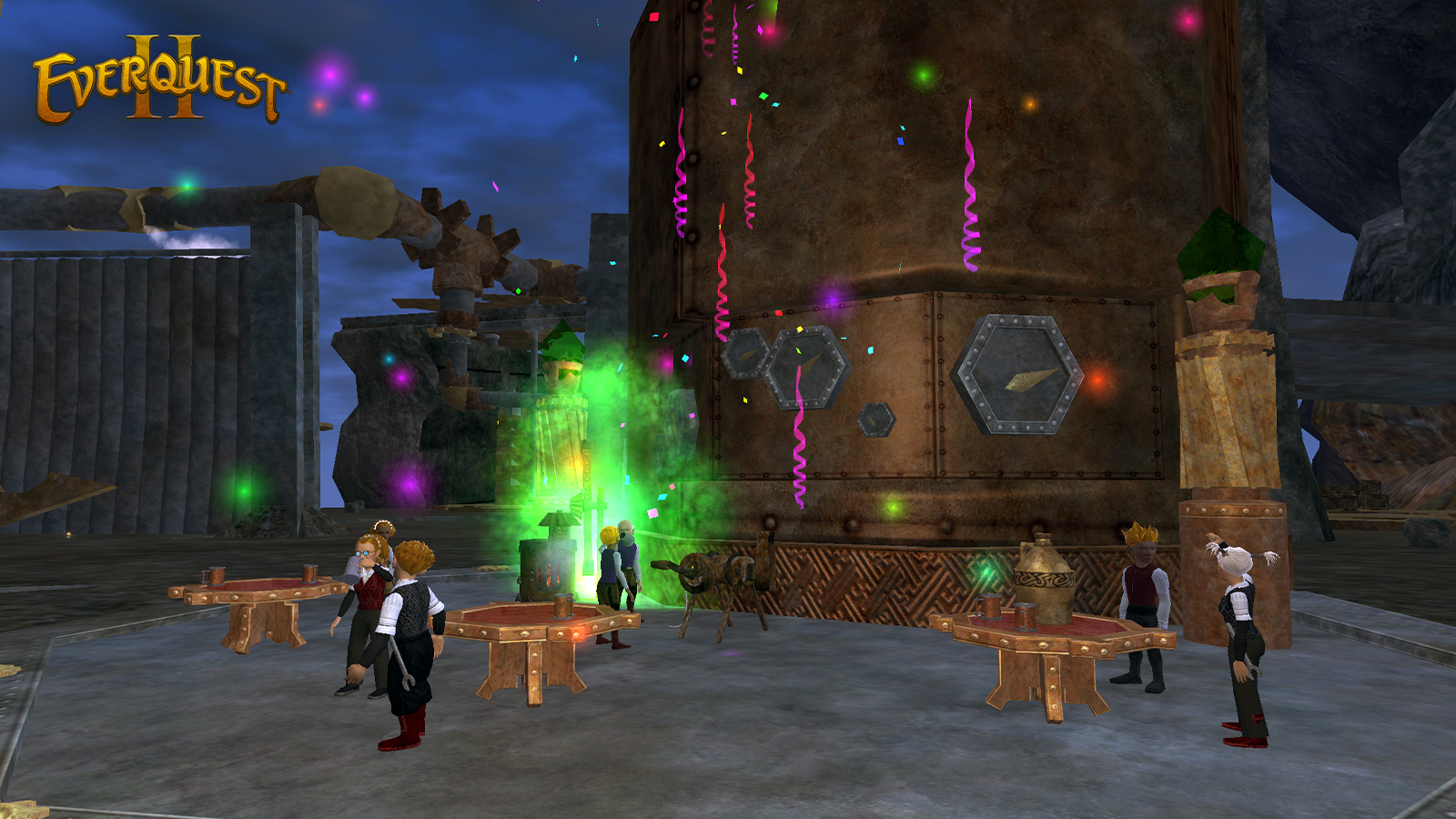 You like getting your hands greasy, right? Doesn't matter because there is something for everyone as Summer Jubilee kicks off and Tinkerfest begins! Yes, it's time once again for all Norrathians to return to Gnomeland Security in Qeynos, Freeport, Steamfont Mountains, or Moors of Ykesha and chat with the tinkerers to see how you can help their cause, advance your skills, and earn some incredible rewards along the way. Let's ratchet into what's new for 2023:
Live servers:
New quest!

Forgotten Complications - found amongst cogs in celebration locations. 

Adjusted adventure quest!


Blood, Sweat, and Gears offered by Tickni Kerplooie at Gnomeland Security in Steamfont Mountains is now available to all levels!
It's true, all players can now earn the exploration achievements.

New level scaling version of '22 dungeon, for characters under level 119.


Innovation: Tinkerer's Trial
Earn Summer Jubilee coins upon completion – 5 coins for all players, 10 coins for All Access members.

New collection!

Tinmizer's Medals of Achievement

9 New Merchant Items sold by Myron in Gnomeland Security!

Items include new plushies, animated housing decorations, and a new wand.

New Tradeskill recipe book, "Tinkerfest Blueprints 15.0" sold by Myron in Gnomeland Security in Steamfont Mountains. The recipes require Shiny Tinkerfest Cogs obtained as quest rewards or harvested, and other low-level harvestables as components.

31 new blueprints have been added including a new building block set!

BOOM! Earn your first Plume!
Special Rules Servers:
Varsoon and Zarrakon

A special Tinkerfest themed merchant, a celebrating tinkerer, and The Shiny Tinkerfest Cog, the currency used to purchase event items, are located in the city of Freeport and Qeynos Capitol District. The merchants have over 70 Tinkerfest themed items for your celebrations, including 2 mounts!
The new collection of "Tinmizer's Medals of Achievement" is available amongst shiny cogs in celebration locations.
This includes in-game mail to announce the TLE event.

Kael Drakkel

The event is active, with the following exceptions (due to expansion availability):

The Reticent Tinkerer and "Hack 'n Slash"

BOOM! Earn your first Plume!


You can purchase a Plume recipe in exchange for Perennial Plumage obtained by participating in Summer Jubilee events.inkerfest is back with a vengeance! Loads to do and even load-ers more to earn. We hope you enjoy this start to Summer Jubilee and be sure to show off any new shinies you get with us! 
Summer Jubilee is now in full swing! Throughout the season, you can enjoy all new content created for this event, Scorched Sky Celebration, and Oceansful Festival that will surely add more fun and adventure to each one and give you many more rewarding opportunities to earn new loot and items while you upgrade your Plume. Grab your tools, blow a kiss to a gnome, and let's get to tinkering! 
Tinkerfest started today, June 5, 2023, and will end on June 21, 2023 at 11:59 p.m. PDT. 
Join us on social media: Twitter, Facebook, Instagram, and Discord.