Hail, almighty Norrathans!
Summer is upon us and we've got updates for you! We are all really excited for what's coming this year, including the 15th Anniversary of EverQuest II and our expansion. And we've got plenty coming up between now and then!
Legendary Ethereal Item Drops and New Expert Dungeons!
This summer, play in new Expert versions of the heroic dungeons in the Chaos Descending expansion for awesome lewtz! It's a good idea to use this opportunity to get leveled up for...reasons…too!
Check out this Fabled item from an Expert dungeon: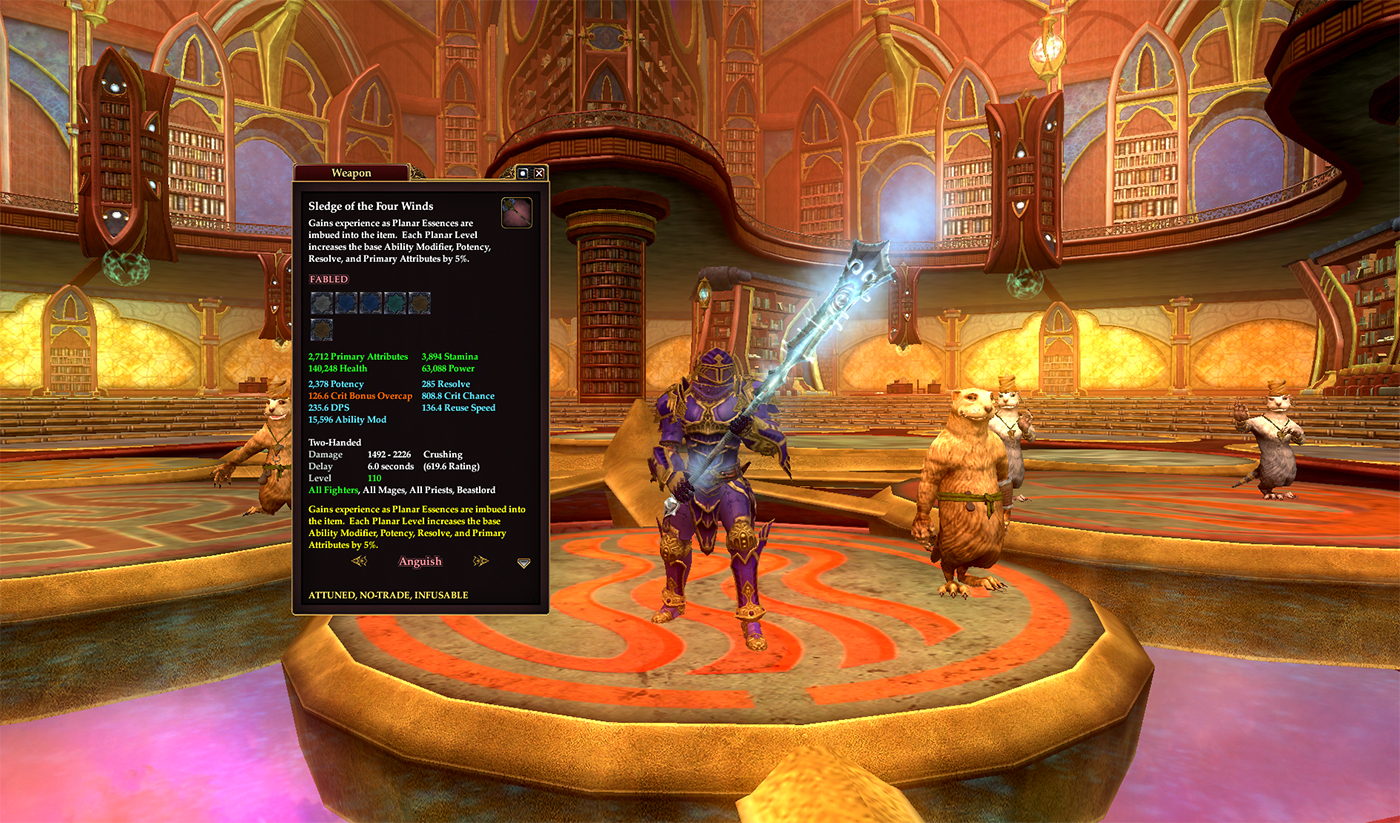 You also may want to look for some best-in-slot items in the Chaos Descending Public Quests as of the June 18th Game Update too. Vagueness intended. Both the Chaos Descending Public Quests and Expert Dungeons begin June 18, 2019. 
Here's a look at a couple of the tasty Ethereal armor items dropping this summer.  Whoa.
Nagafen PVP Server Seasons
The first Nagafen PVP Server Season 1 will come to an end on June 18, 2019, with the Game Update and will kick off its Season 2 on July 30, 2019. The team will be making some changes and tweaks based on Season 1, so keep an eye out from posts from the team as we move along!
Let's Celebrate Pride!
This year, you can get our Pride-themed bunny familiars from the in-game store for free from June 21, 2019, until July 31, 2019. As a studio, we support every gamer who contributes to our community. Show the love!
The Scorched Sky Celebration Heats Up!
For the second time, worshipers of Fennin Ro and his son, Solusek Ro, will be celebrating across Norrath with Scorched Sky celebrations! The celebrations begin June 26, 2019, and end July 8, 2019.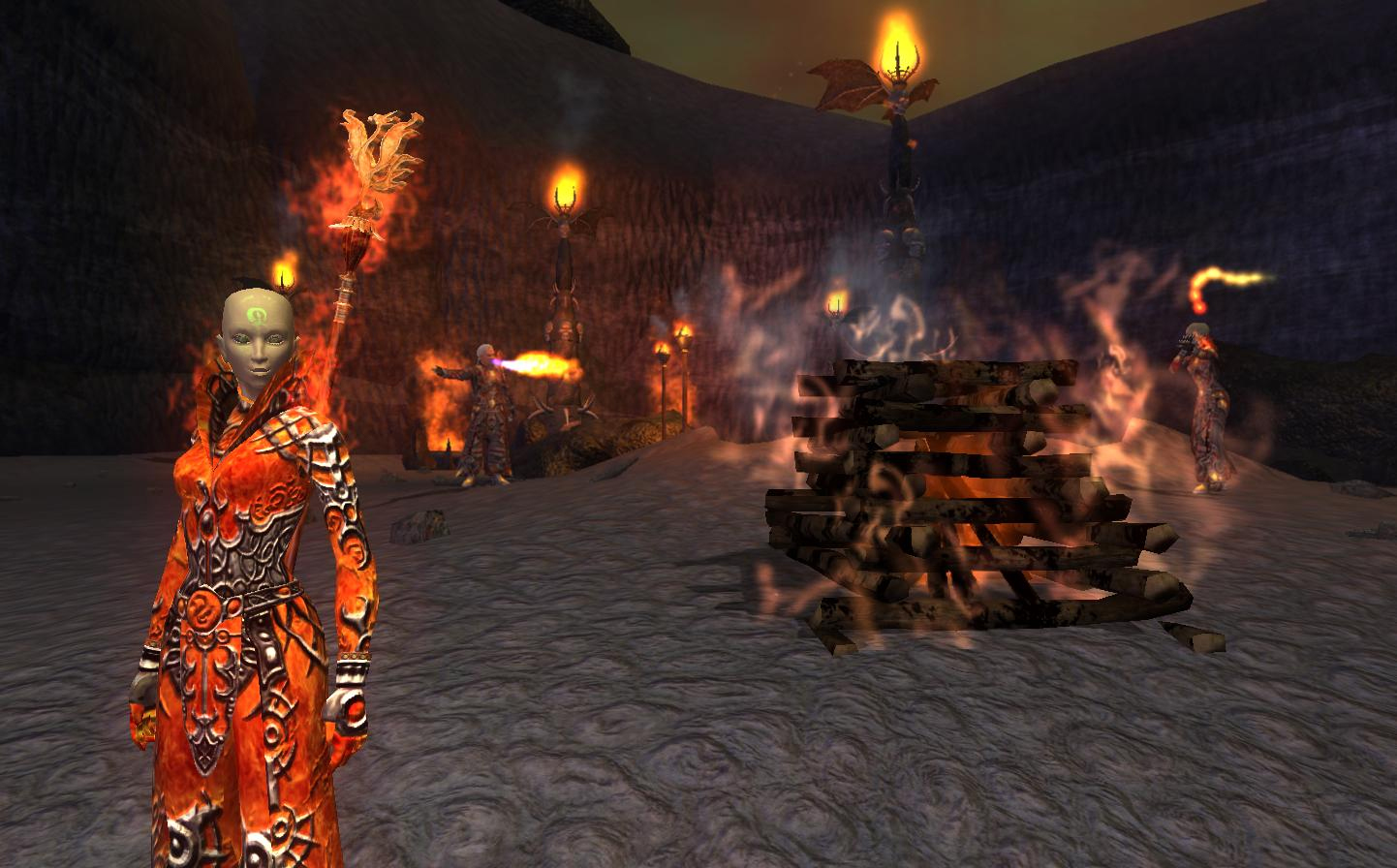 What's new with Scorched Sky this year?
The Ember merchants have 31 new items available, including a whole new building block set and an armor crate!
New Quest: The Heat Is On offered by Limora Roamhill in Darklight Wood.
Returning Features:
In-game mail to announce the event.
Ro worshipers are found fire dancing, summoning fire elementals and praising Fennin and Solusek Ro.
Tempered by Flame - Players defeat fire elementals (level scaling) found in areas of the world where followers of Ro are located. Defeat fire elementals to earn Coin of Ember.
New "Corilac Gem Stones" event collection.
"Festive Fireworks" city quests.
During this special celebration, the devotees of Flame are offering a chance for all to rejoice in the primal power of Fire and Flame, with no grudge towards those who have embraced other deities. They believe that within the flames all mettle is tempered, both literally and figuratively. That which is weak, distracting, and fleeting will be burned away in battles against fire elementals, leaving only the strong and resilient.
For a full breakdown of the event locations, merchant items, lore and more, see this post from the celebration's introduction last year: https://www.everquest2.com/news/eq2-scorched-sky-celebration-june-2018.
Expansion Tidbits. Like, Itty Bitty Bits
It's definitely a little early to be talking about the expansion, but we can tell you it's a good idea to level up your characters over summer and fall with our leveling-up events!
Yep, we are doing a 10-level increase this year with our expansion. We also have some new features we're excited to talk about when we get into the nitty gritty of the expansion this fall, including the lore and location...and it's a familiar one if you know EQ.
Nope, no more on that. Guess all you like. You might get lucky.
EverQuest Anniversary Pack Countdown
Don't forget to get your hands on the EverQuest Anniversary Pack available on the store. It's got some goodies you might be interested in! The regular price is $34.99 (for a $60 value) but you can get it for $19.99 from now and throughout August. It's got a Flame-Branded Steed mount, Journeyman Boots of Adventure, a backpack, painting, mount Barding Slot unlocker, and more! To see all the details, go to: https://www.everquest2.com/news/eq2-year-of-everquest-pack-updated-2019.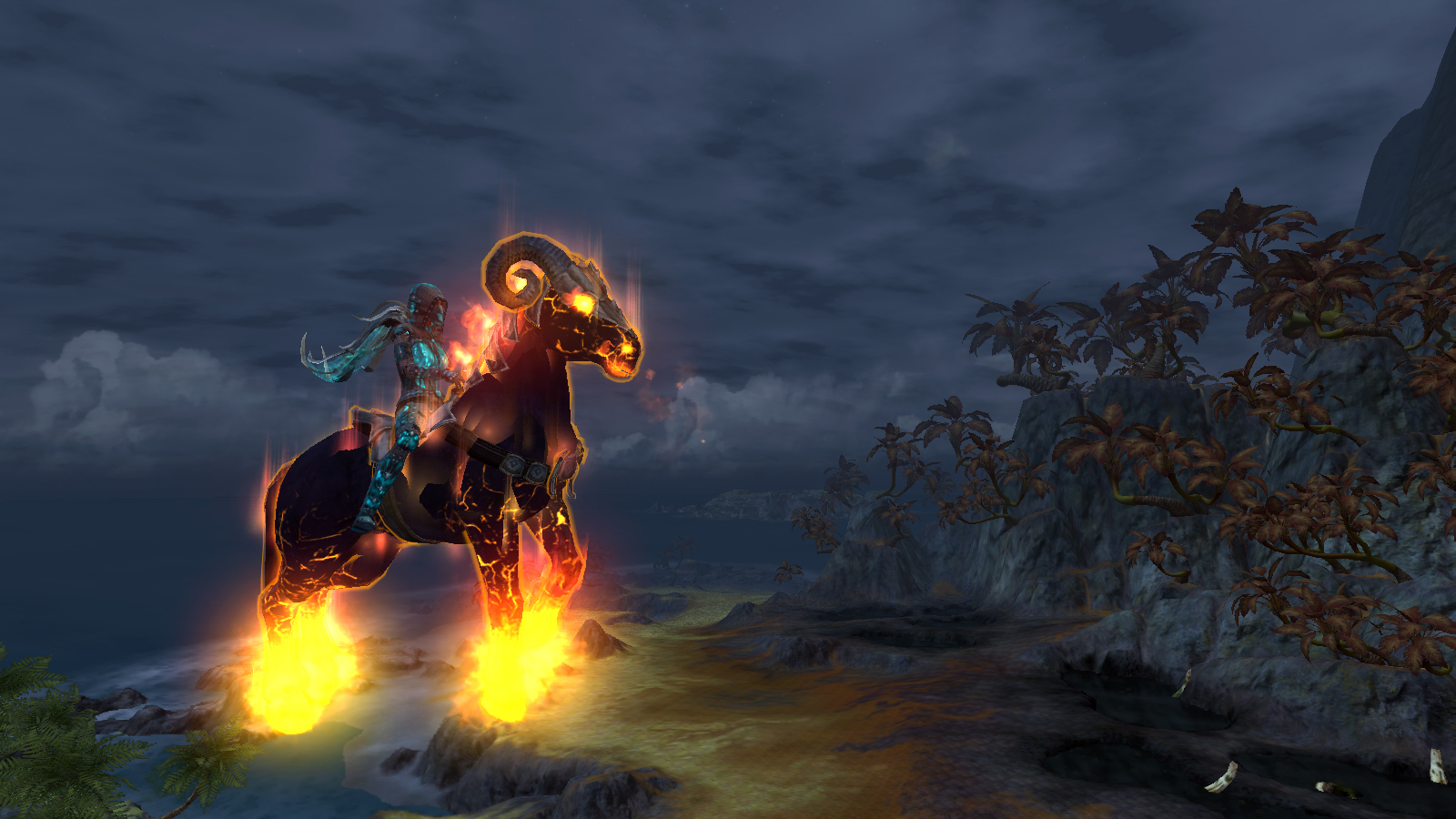 Getting Together
We are still working on planning a fan event (now probably next year to give EverQuest and EverQuest II fans and guilds time to prepare and plan). We'll have some questions to ask the community about who might be interested in joining us for a weekend fan event, focused on the them, with Q&As, roundtables, and activities for gamers and roleplayers. Fun stuff!
We'll start rolling out some questions and surveys as we move forward!
Sincerely, as always, friends,
Holly "Windstalker" Longdale