Being a member has its perks, and those perks are about to get even better during Daybreak's Cyber Monday promotions!
First things first – Are you an All Access member who needs to add on some more membership time? Are you finally ready to become an All Access member? On Cyber Monday only, you can get 3 Months of membership for only $29.99!*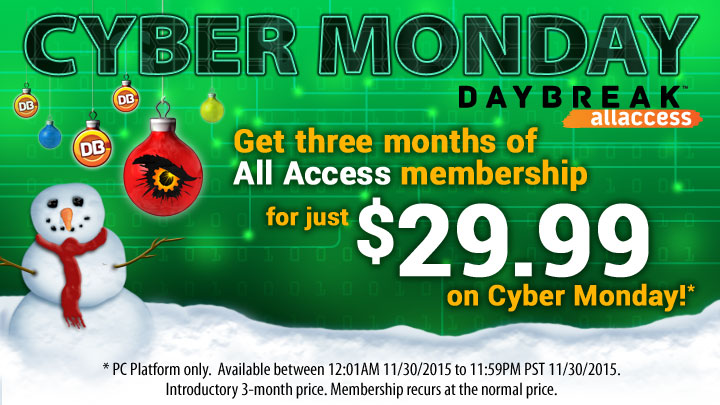 Once you've got your shiny new membership all finalized, hop into game and discover the second deal – your normal 10% off unlimited marketplace purchases has been raised to 25% off most items for Monday, November 30th! Some exclusions to apply, but with those purchases, you'll still get your regular 10% off discount. This 25% off deal is for members only on Cyber Monday, so if you're not a member yet, become one today and take advantage of this bonus before it ends!
Read the full details of All Access membership, which includes PlanetSide 2 (PC), DC Universe Online (PC), EverQuest (PC), and EverQuest II (PC) here: https://www.daybreakgames.com/allaccess
*Membership is recurring. After your initial three months of membership your membership will continue to bill at the normal rate of $38.97.