Bristlebane Day is a holiday that celebrates mischief of all sorts. Bristlebane Day 2015 starts on Friday, March 27 and runs until 11:59PM Pacific on Thursday, April 9, 2015.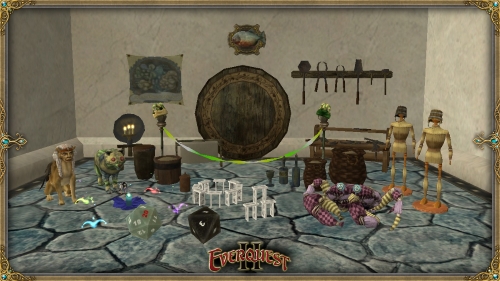 New for Bristlebane Day 2015!
New Quest - Plethora of Patchcraft Parts
New Tradeskill recipe book, "Perfectly Serious Items to Craft VI."
7 new event items purchasable from "a Bristlebane Day Merchant."
April First is Special!
You would have to be an April Fool to miss anything that's happening on April 1st! For example, look for Jester's superior gardens found across the Enchanted Lands, as harvestables from other holidays can be found here during April 1st only!
This and more can be found in-game for April Fools' Day!
Bristlebane Day Themed Marketplace Items
Look for seasonal items from our awesome Player Studio artists in the Marketplace starting Friday, March 27, 2015. Don't miss any of the seasonal items from previous years, while they're available!
Also, look for the Bristlebane Day content returning from previous years!
Looking to learn more about Bristlebane Day? Check out some of our great fansites that have information of your about this event!
Jesters, thieves, bards, and fans of mischief are encouraged to enjoy the Bristlebane Day festivities, and we'll see you in Norrath!