By Ry "Roshen" Schueller
Happy Tears of Veeshan release day, Norrathians! For this update, we have quite a few additions to the Marketplace. Most of these have been designed by talented Player Studio artists from the community!
Fire Dragon Carpet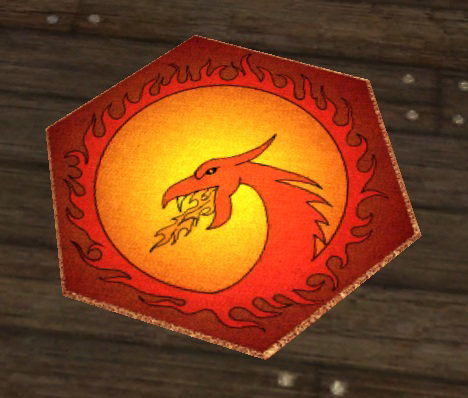 Looking for a hot carpet that will really tie your whole room together? Then pick up Fire Dragon Carpet by Jerry Dechant!
Grapes of the Vine Cabinets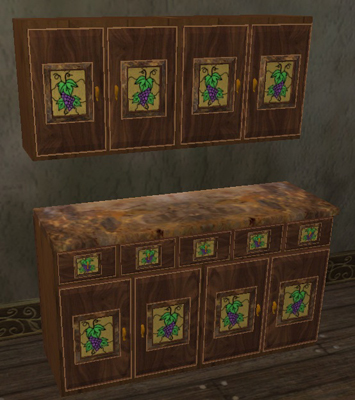 Add a bit of class to your home with the Grapes on the Vine Floor Cabinet and Grapes on the Vine Wall Cabinet by Jerry Dechant. Why let vineyards have all the style, when you can have some classy grapes on a vine of your own?
Misty Thicket Enchanted Land Picnic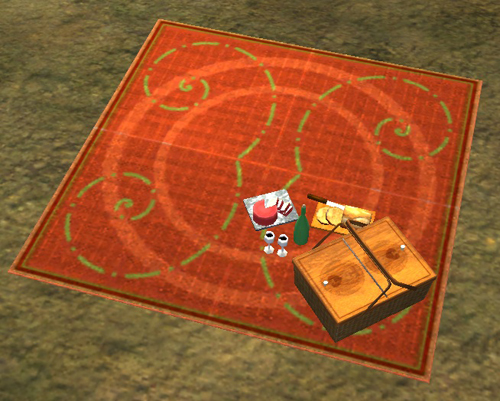 Whether it's time for second breakfast or afternoon tea, a Misty Thicket Enchanted Land Picnic by Jerry Dechant should let you enjoy at minimum six meals a day, and in proper Halfling style.
GnomeWorks Counter-top Water Pump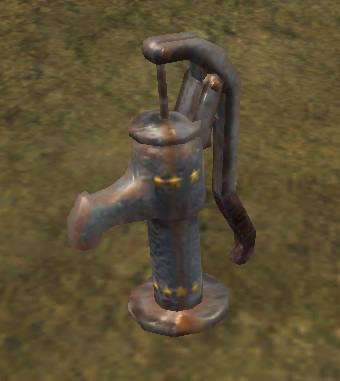 There will be no more running out to the well for you, once you have a GnomeWorks Counter-top Water Pump by Jerry Dechant placed lovingly in your kitchen.
Three Paintings by Margaret DeLaney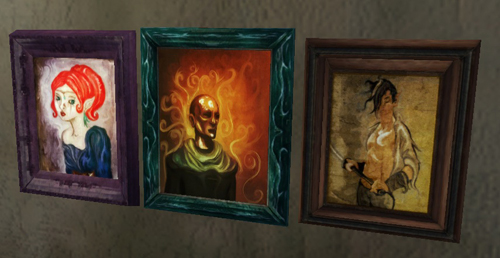 Add some fine art to your fashionable home with Painting: Highborn, Painting: The Great Mage, Erud or Painting: Feir'Dal Swordsman, all designed by Margaret DeLaney.
Cask of Mead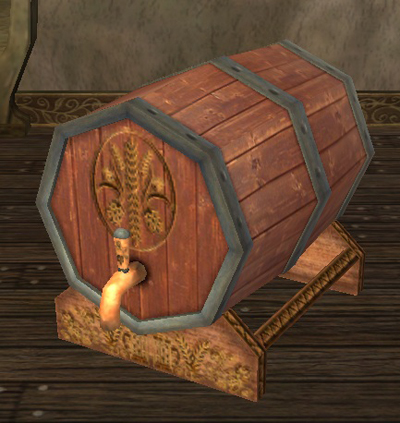 Have you tried to have a house party without a Cask of Mead ready for your guests? If the answer is yes, then what kind of host are you? Go out and pick up a Cask of Mead by IceSy Designs immediately!
Golden Banquet Items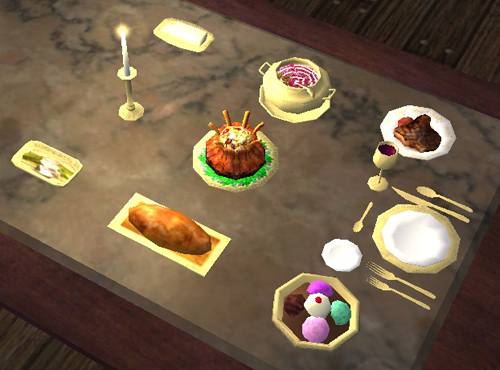 What would a fancy dinner party be without proper place settings, candle sticks, and multiple delectable meal choices? All of these golden banquet items designed by Zarali are perfect additions to your own dinner décor. All of these items can be purchased separately from the Marketplace, or bundled in a number of different ways.
Golden Banquet Place Setting Bundle contains:
8 x Golden Banquet Place Setting
Golden Banquet Candle Stick Bundle contains:
8x Golden Banquet Candle Stick
Golden Banquet Feast Bundle contains:
Golden Banquet Butter Dish
Golden Banquet Sundae
Golden Banquet Soup Tureen
Golden Banquet Crown Roast
Golden Banquet Porterhouse
Golden Banquet Crusty Bread
Golden Banquet Bamboo Shoots
Testudinal Defender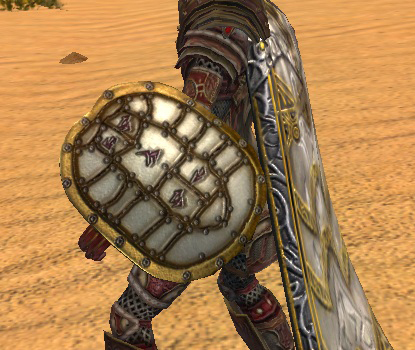 Testudinal Defender by Rollen is a shield that resembles a giant fortified turtle shell enchanted with runes.
Chained Carnage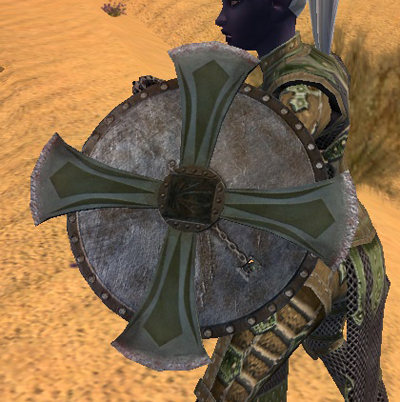 Chained Carnage by Rollen is four large blades mounted on a shield with a chain for the wielder to swing in a wide arc of carnage.
Sclif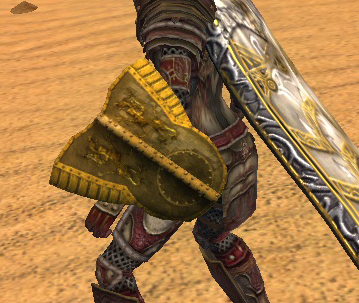 A Sclif is a bronze shield with symbols etched by acid into the face of this buckler. Sclif by Rollen is available now.
Sirena's Spiked Fury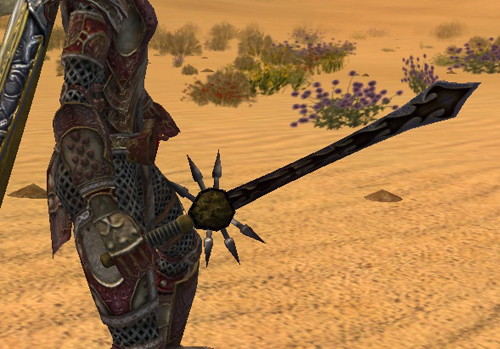 Sirena's Spiked Fury by Rollen is a black iron sword with a custom black and gold blade symbol.
Axe of the Mountain King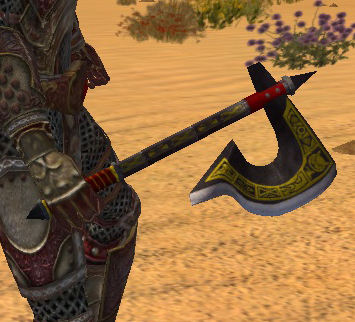 Rumor has it this axe has been infused with magical runes. Will that be enough of a reason for you to pick up an Axe of the Mountain King by Rollen from the Marketplace today?
Shield of the Zarkruum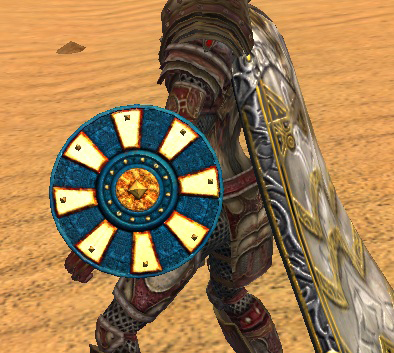 An ancient race, unknown to most, left behind this artifact for future explorers. Shield of the Zarkruum is by Cakvala.
Foaming Mug Buckler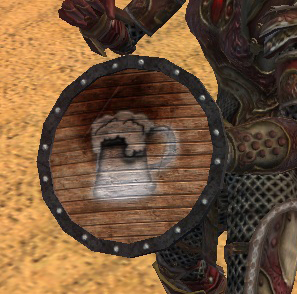 Anyone that picks up the Foaming Mug Buckler by Beatles clearly knows that drinkin' an' fightin' be a good day 'o work!
Noble Scouting Axe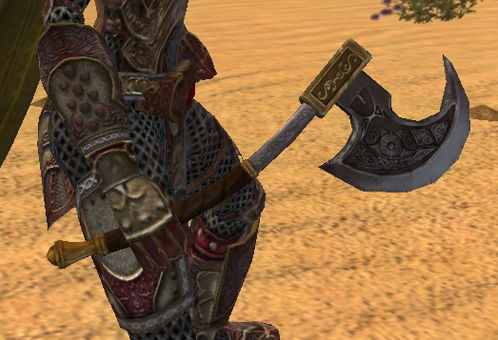 Noble Scouting Axe by David is a weapon to be used by only the most noble of wielders!
Blue Dust Blade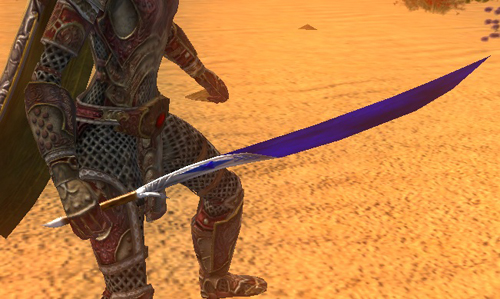 The smooth finish of the Blue Dust Blade by Nezereth is enough to impress almost all Norrathians. In addition, the blade is sharp enough to dispatch anyone who is unimpressed with its design.
In addition to the great designs from our talented Player Studio artists, you can also check out these frightening offerings from the EverQuest II team!
Bixie Skimmer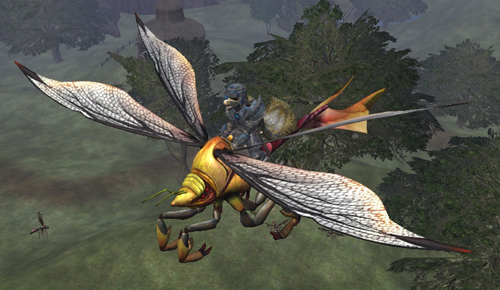 Looking for an amazingly unique mount to accompany you as you buzz around from one adventure to the next across the lands and Norrath and beyond? Bixie Skimmer is likely exactly the thing you're looking for.
Nightborne Items
Pick up any or all of these terrifying Nightborne items unique to the Marketplace.
Nightborne Sword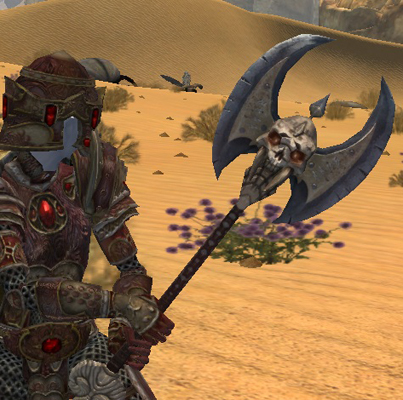 Nightborne Greataxe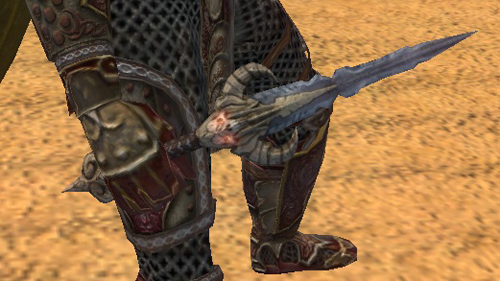 Nightborne Straight Dagger
Do you want to use your artistic talents to impact the ever-changing world of Norrath? Player Studio provides artists exactly that opportunity! Available in EverQuest II, as well as EverQuest, PlanetSide 2, and Free Realms, Player Studio gives you the chance to share your creative vision and leave a permanent mark on the game worlds you love to inhabit.