In this Marketplace update, we have a couple terrific new Nightborne weapons designed by Player Studio artist Albert Soto Jr.
In addition to the new Player Studio items added to the Marketplace today, we are reintroducing the Equipment Unlocker Pack to the Marketplace for 150 Station Cash. Each Equipment Unlocker Pack can unlock five pieces of equipment that normally cannot be equipped due to account level restrictions. The goal of reintroducing this item to the Marketplace is to make things easier for our players that want to unlock specific pieces of equipment for their characters, or players that want to gift Equipment Unlockers to their friends!
Players can also get individual Unlock Equipment Items from the Marketplace for 40 SC each.
Nightborne Short Axe by Albert Soto Jr. available for 400 Station Cash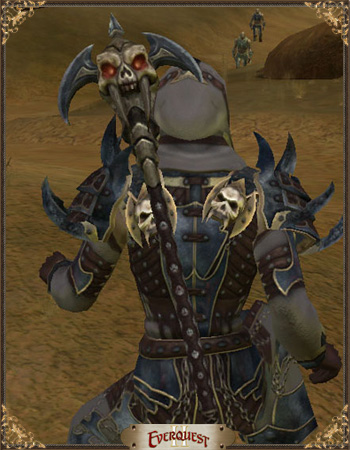 Nightborne Staff by Albert Soto Jr. available for 400 Station Cash
Do you want to use your artistic talents to impact the ever-changing world of Norrath? Player Studio provides artists exactly that opportunity! Available in EverQuest II, as well as EverQuest, PlanetSide 2, and Free Realms, Player Studio gives you the chance to share your creative vision and leave a permanent mark on the game worlds you love to inhabit.