Here are the April Update Plans for EverQuest II!
The Skyshrine update (GU 63) is taking the lion's share of the team's focus right now (launching in mid-April), but other things are still happening as we continue to smash bugs, improve systems, and look to the future of EQII!
The team is busy reviewing GU 63 feedback and making tweaks, fixing bugs, and still adding new goodies to the content – and there is a LOT of it – one of the biggest ever done on EQII! I want to say a big "Thank You" to the community too. We're very grateful for the support and constructive feedback we've been getting on the Test Copy server and forums and ask that you not stop now! During this month we'll be doing interviews and giving detail on what is being added to this monstrous update because there is plenty to say. The more we see the final touches the team is doing, the more excited we all get!
Holly "Windstalker" Longdale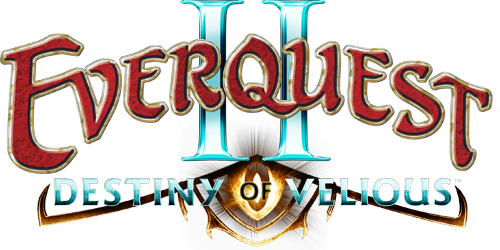 Destiny of Velious and More
While the game update continues the Destiny of Velious story, we want to make it clear that there are also additions that support other features released in Age of Discovery expansion, like tradeskill apprentices, new Dungeon Maker map and decorations, new creatures for Beastlords to tame, and a new elite mercenary. In case it hasn't been said enough, we are going live with this exciting update on April 17.
Test for the Best
We are thrilled at the participation we have seen on Test Copy and the feedback has been great. The team reviews the content, feedback databases, and forums daily. We encourage everyone to participate and contribute! Please check out the In Testing forums for instructions on how to copy your character and access Test Copy as well as zone access and testing baubles to set you on your way!

Bristlebane Celebrations Begin!
It's time for mischief, pranks and fun in honor of the King of Thieves, Fizzlethorpe Bristlebane! Starting at the end of March and kicking off at full steam on April 1 - 12, tricksters of all shapes and sizes can enjoy the return of the holiday with new features added this year, including a contest in Enchanted Lands, new tradeskill recipes, and more!
Limited Time Bristlebane Marketplace items!
Just in time for the Trickster's holiday, we have a couple of items on the Marketplace that will be around for a short time starting April 1. The King of Thieves' childhood friend and mount has been revealed and in honor of pranksters everywhere, and a Jester costume is available. Get them while you can as they will not be offered after April 12.
Spring Fever
Over the Easter holiday, we will have some fun Spring items for sale in the marketplace as well as some pretty big SOE holiday promotions. Everyone will get to enjoy double experience over the weekend too!

Qeynos City Festival
This month, the Far Seas Trading Company is headed to Qeynos! The city festival kicks off on April 1-7.
Behind the Scenes
While the Game Update content itself is pretty obvious, the team is also making some exciting changes to the game code and making improvements. Pathing was one of those changes, and we're always working to fix bugs and improve the game. As we said some time ago, in addition to game update features, our engineers, artists, and designers continue to fix Live issues and bugs – even some pretty old ones! And at the same time as all this, we are planning well into the future for EQII with plenty of lore, concept, and feature meetings. It's a great time for EQII!