By Eric "Piestro" Cleaver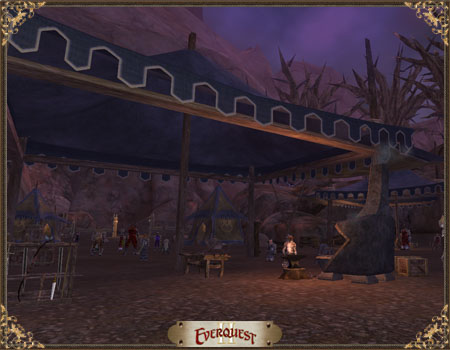 As we continue on towards the release of Game Update 63: SKYSHRINE, I sat down with Game Designer Brian "Omougi" Ferguson to talk a little bit about tradeskills. Tradeskills are a big part of GU 63 and he had a lot of exciting information to share!
[Piestro] So tell us a little bit about tradeskills in GU 63. What can tradeskillers expect to see once the Game Update is released?
[BF] Game Update 63 contains the first step into the 10th tier of "normal" tradeskill recipes. Higher quality Handcrafted and Mastercrafted versions of all the normal things you would expect are all included – spells, weapons, armor, food, poisons, potions, arrows, and of course new house items with themes centered around the Withered Lands and Skyshrine. The new gear will be level 91 and 92.
[Piestro] Of the items going in, what are your favorites?
[BF] There are a lot of awesome items going into this update, but my favorite new items are probably the poisons. Many players have been asking for more potent poisons, and we are aiming to deliver just that in this update.
[Piestro] What sort of quests can tradeskillers look forward to?
[BF] A tradeskill quest line is included in the Withered Lands content. We worked to incorporate the characters and story arcs closely with the adventuring story. If you do all of the content, both adventuring and tradeskill, you should be able to get a much better picture of what's going on in the Withered Lands.
[Piestro] Finally, what about the new tradeskill apprentices; how many are there and what sort of recipes will they provide?
[BF] Two new tradeskill apprentices are included with GU63. The recipes that they provide will produce extremely potent items, like clicky buff totems and mastercrafted arrows, as well as a few hand-picked pieces of armor and weapons. Several of the items you can produce with these recipes may be best-in-slot for your favorite character!
Thanks Brian!