After marching across Cobalt Scar and facing fierce foes in the depths of Sirens Grotto, you may be looking for a quiet place to go and collect your thoughts before embarking on another adventure. Perhaps you will find your center and personal Zen in the new Hua Mein Retreat Prestige Home, where you can swim in the river, lounge in the lush green open spaces, and build a quiet refuge in the cave.
Hua Mein Retreat Deed
Looking to complete your new home? This week, Hua Mein furniture bundles are also being introduced in the Marketplace. Marvel at your daily catch in the Hua Mein Fish Basket or peacefully meditate aside the Hua Mein Totem and Hua Mein Incense. These items (and many more!) are available now.
Hua Mein Furniture(available in various bundles or a la carte)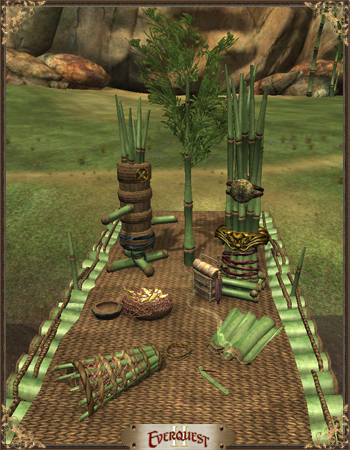 When you're visiting the Marketplace, make sure you also visit the Sale Category for great finds at discounted prices!