The update on February 26th was discussed in Podcast #143, as well as in articles about the PvP Updates and Bag Sorting Abilities. Now, it's time to take a look at two more major features that round out the update: new raid content and guild achievements!
X2 and X4 Raids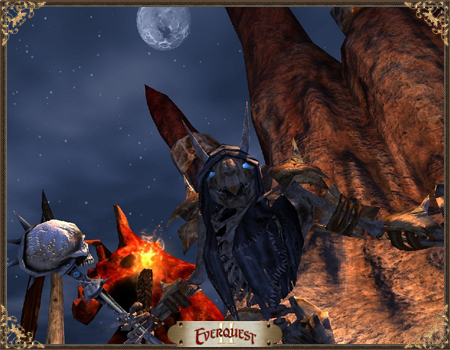 Three new raids are being launched on February 26! There are two X2 raids in Wurmbone and one X4 raid on Dreadcutter, the pirate ship. The two X2 raids in Wurmbone's End are called "Nox Incessit," which means "Night Comes." The creatures in these zones are more active once night falls… There are two separate zones; one is easy and one is a challenge, but they are different, which means you could run both versions for different experiences. They each drop different loot from tiers respective to their difficulty level.
The raid on Dreadcutter is an X4 raid featuring 3 bosses. This is a hard mode raid - in fact, the final boss is designed to be the most difficult encounter in game!
For more on the raids, listen to Kyle "Kander" Vallee chat about it in Podcast #143!
Guild Achievements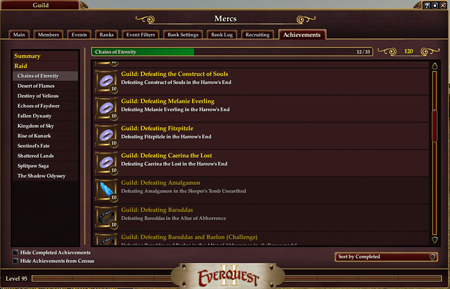 As announced on the forums by Holly "Windstalker" Longdale, Guild Achievements are coming to EverQuest II! There are currently over 150 achievements that will be tracked, spanning all expansions of the game. Every guild will start with a clean slate, which means none of the achievements will be rewarded retroactively. The achievements will all be based on the same clock, and will be accurate to the second.
The current achievements are raid-based. For a guild to earn an achievement, 2/3 of the group present in the raid must belong to a single guild. Assuming you had six people in a group, that would mean at least four of the six must belong to a single guild in order to get the Guild Achievement. Individual achievements can still be earned in the content.
To track your achievements, there is a new tab in the guild window. The data will also be publicly available in the census, though a guild can choose to opt out from allowing others to see their achievements. This is done in the same window; there is a checkbox in the lower left-hand corner.
The first iteration of this program is Raid Achievements, but there are plans to add more categories in the future!
Want to leave your feedback on these and other features coming on February 26th? Send us a tweet, post it on our wall, or visit the forums!