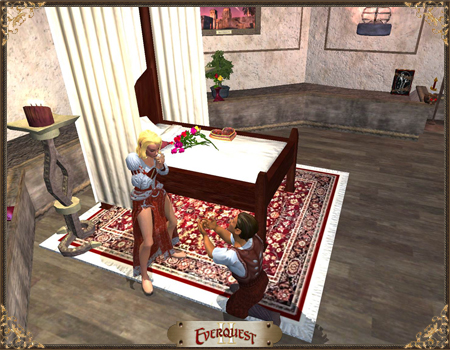 Love is in the air, and love stories are being created all across Norrath. But not all of those stories have a happy ending… To celebrate all types of love stories, we're having an Erollisi Day forum challenge!
The Challenge – Tell a love story in five screenshots or less! The story must be told through images only – no captions or additional text. The story can be sweet, loving, sad, funny – it just needs to tell a "love story" that fits in Erollisi Day!

You set the scene and decide the storyline. You may ask others to participate in your scenes, but only the individual who posts the screenshots will be considered for prizing.

Duration – Submissions for this forum challenge will be open from Friday, February 15, 2013 through Wednesday, February 20, 2013 at 5:00 PM Pacific time*.

Instructions:
Set the scene(s), gather your character(s) and/or mannequins and/or plushies and/or pets, and take the screenshots that tell the story!
Make sure your screenshots are web-ready (.jpg, .gif, or .png) and no larger than 700x500 pixels. You can post smaller thumbnails with links to larger images, if you'd prefer.
Respond to this threadwith the following: Character Name, Character Server, Title of Your Story, and 1 – 5 Screenshots.
Rules:
Before submitting an entry, please review the Official Forum Challenge Rules.
Participation is limited by person, and not by character or account. As such, you cannot participate with two different accounts or characters.
All submissions need to keep within the Erollisi Day theme in order to qualify.
Rewards: After reviewing the submissions, winners will be selected by a panel of judges. Judges will look for creativity, originality, and thematic content. Winners will receive:
A Robe of Loving Tidings
A Small Teddy Burynai or An Erollisi Teddy Bear (winner's choice)
Erollisi Mistletoe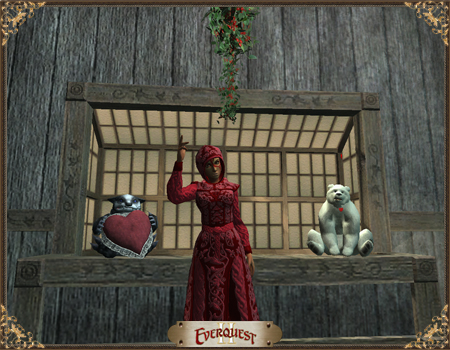 There will be a maximum of two (2) winners in each of four (4) categories: Most Romantic, Most Tragic, Most Humorous, and Best Setting!

Submit your screenshots on the forums! Happy Erollisi Day!