In addition to the items made by Norrath's amazing and friendly crafters (available through trades and the in-game broker), you can purchase an assortment of services, items and features with Station Cash from the EQII in-game Marketplace, to enhance your gameplay experience. Appearance armor, mounts, prestige homes, and server transfer tokens are just some of the items available. New items are added to the Marketplace weekly!
Since the Nights of the Dead are upon us, the offerings in the Marketplace have taken on a creepy cool vibe as all of Norrath is participating in the holiday festivities!
Ancient Mummy Wrappings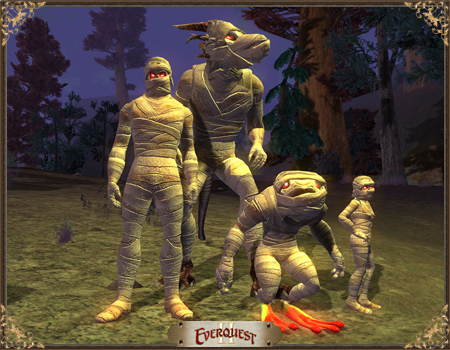 As Halloween arrives here on Earth, the Nights of the Dead continue in Norrath. Celebrate both with this elaborate costume – Ancient Mummy Wrappings. This head-to-toe look will send shivers down the spine of all who see you. The Ancient Mummy Wrappings crate includes wrappings for head, hands, chest, legs, and shoulders.
Darkspirit Unicorn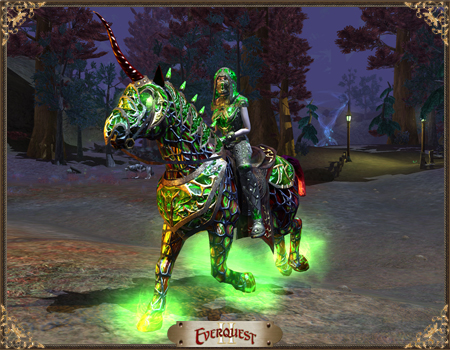 The herd of unicorns is complete with the arrival of the fourth and final member, the Darkspirit Unicorn! With shades of ghastly green, this stunning mount is a perfect addition to anyone wanting to travel quickly and make a scene while doing so! Also, if you desire to match your armor to your mount, check out the Soulscorned items in the Marketplace; they're a perfect complement to the Darkspirit Unicorn!
Bane of the Awakened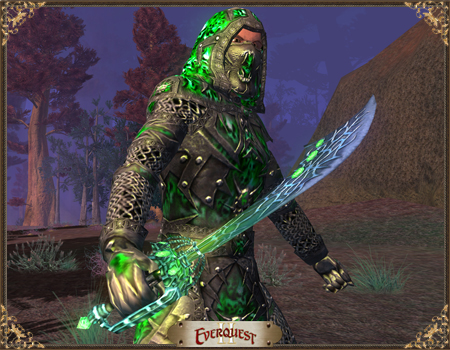 This new piece of appearance weaponry possesses both sereneness of color and severity of strength when you use it in combat! The Bane of the Awakened is a one-handed appearance sword that makes a striking addition to any armor set.
Also, remember to keep checking the Sale Category! A selection of Nights of the Dead items are still on sale this week!