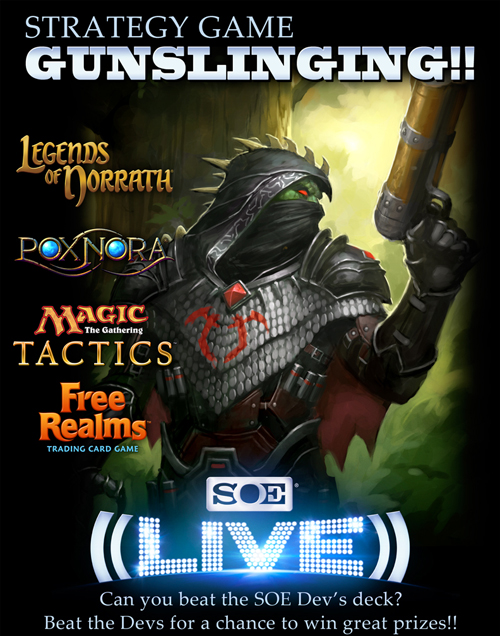 Hello Strategy Gamers!
If you're planning on coming to SOE Live (seriously, it's Vegas, people, how can you NOT be coming to SOE Live??) then you definitely want to participate in some good old fashioned Strategy Games Gunslinging!
What is gunslinging?
Well, just like in the days of the old west, the challenger (that would be you) is a young and cocky wanderer who just blew into town looking for trouble. You have a deck that you think is nigh unbeatable and you're looking to unseat the wizened old timer that currently holds the title of "the best" (that'd be the Devs). The old timer looks at you over a dirty glass and breathes a heavy sigh. A bag full of dusty and unused buttons saying "I Beat An SOE Dev" hangs on his shoulder. He sizes you up and snaps the bag shut, figuring he won't be giving one of these away anytime soon. "What's your game, son?" he asks. And then the game is on.
Sounds exciting, huh?
So here's the scoop. Find the Gunslinging area at SOE Live. You log into your account and play your deck against the Dev's best deck. If you beat him, you get one of those spiffy and exclusive "I Beat An SOE Dev" button to proudly wear and brag about your accomplishment!
We'll be taking challenges in Legends of Norrath, PoxNora, Magic: The Gathering – Tactics, and Free Realms Trading Card Game. Specific challenge times will be posted on the SOE Live show floor.
Get your decks put together now and practice up!
--Mark