We are now sharing our EQ2 Players data feeds with third-party sites, which allows our incredible player community to use character data in their own creative ways. One example of community use of this information is EQ2 Wire's new EQ2U site.
If you don't want your characters to show up on third-party sites or the upcoming revamp of the EQ2 Players site, you should disable EQ2 Players Updates in the Character window (C). You can also choose whether or not to link your Alts, so that they may/may not be found via your other characters on a single account. (By default, your Alts are not linked.)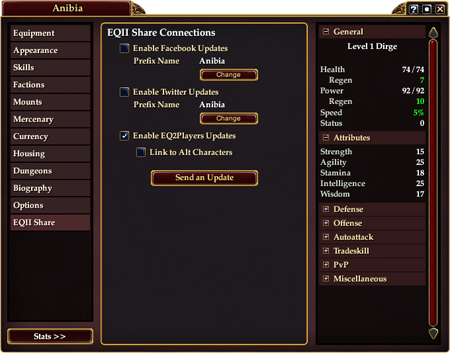 In the Character window, click on EQII Share, then choose your preferences from the available options:
Enable EQ2 Players Updates - Make this character publicly viewable on EQ2 Players.
Link to Alt Characters - Show this character as an Alt of your other characters.
Once you have made your selection, your preference and information will be updated shortly after you next zone or camp out.
EQ2U's FAQ has more information about the data feed as well as their companion site.
Learn more about the upcoming EQ2 Players revamp from our Sneak Peek webcast, or read EQ2 Wire's transcript from the webcast.