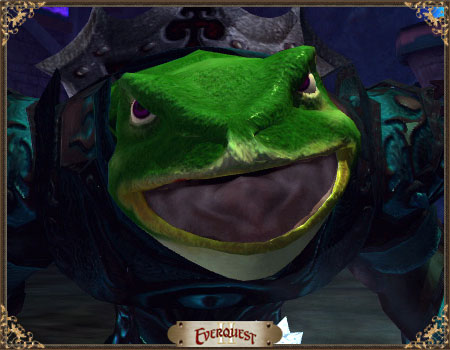 Shock. Surprise. Joy. Excitement. With SOEmote™, your avatar mirrors your personal facial reactions. What will it look like when you win a trip to Las Vegas for SOE Live? Now is your chance to find out!
Video Assignment:
Come up with an original idea for an EverQuest II video that uses SOEmote. Make it EQII lore-based. Make it RPG-focused. Make it something you've never seen before. It's up to you. Just make it epic.
Create and submit an original 30-second video featuring EverQuest II's new SOEmote feature.
Judging Criteria:
Members from the SOE EverQuest II Development and Community teams will judge the submissions and choose the winner, based on the following criteria:
Originality and creativity - 40%
Adherence to video assignment criteria - 30%
Overall appeal - 30%
Submission Requirements:
The video file must be original to you, and must contain no materials that are the intellectual property of any person or entity other than SOE, including without limitation, copyrighted works such as music or graphics, trademarks, etc.
The video must be no longer than 30 seconds in length
The video file size should be kept at or under 100 MB
Send an email with your video as an attachment or send a link of your video to EQ2-SOEmote-Contest@soe.sony.com. If you send a link, we must be able to download, not simply stream, your video from the link.
Grand Prize:
Hotel, roundtrip airfare, and tickets for two to SOE Live in Las Vegas this October!
Are you ready for your close-up? Lights…camera…SOEmote!
For full Official Rules, please visit SOEmote.com
NO PURCHASE NECESSARY TO ENTER. Limit one (1) entry per person. Open to everyone eighteen (18) and over who are legal residents of the United States; void where prohibited. Promotion begins at 12:01 AM PST on August 8, 2012 and ends at 11:59 PM PST on September 8, 2012. See the Official Rules for details. Contest sponsored by Sony Online Entertainment LLC (SOE).