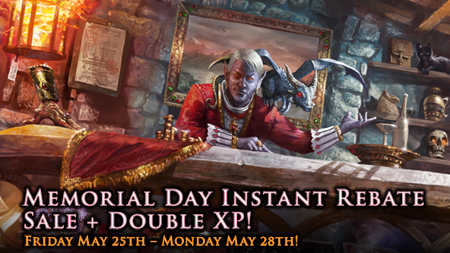 From Friday, May 25, 2012 at 12:01 pm (noon) Pacific* through Monday, May 28, 2012 at 11:59 pm Pacific you'll get an instant rebate for half your Station Cash back when you purchase almost anything** in the EverQuest II Marketplace! Everyone likes having more to spend, and now's the time to grab that item you've had your eye on. As soon as you do, you'll find 50% of the cost of the item (clearly displayed to you in game) immediately refunded to you… maybe you should look at another item on your wish list!
Jump in game and explore the Marketplace. Whether it's an Experience Potion or the latest Heritage Armor, it's now twice the deal it used to be!
** Recurring subscriptions are not eligible for the 50% rebate.