Dungeon Finder is Coming Thursday, October 6, 2011!

You asked for it - we delivered! The Dungeon Finder matchmaking system for EverQuest II is finally here! No longer will you have to scour the Looking for Group, Trade, or Auction channels to find a dungeon group. We've developed an amazing tool that does the work for you. All you need is to come prepared with your best adventuring outfit and rations.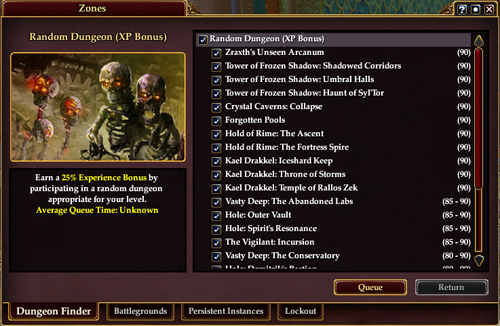 Now to get started using this feature, click on the Dungeon Finder button on the experience bar (this can also be accessed by typing /dungeonfinder, /dungeon, or /df). The Dungeon Finder window will open. The options are to choose a random dungeon or to select a specific one. If a random dungeon is chosen, a 25% experience bonus will be applied while in that zone. Clicking "queue" starts the matchmaking system.
More Information about Dungeon Finder:
Players must be level 20 or higher to use this feature.
Mentoring cannot be used with the Dungeon Finder.
If a group finishes a Dungeon Finder dungeon, the group leader can queue for another dungeon using the "queue group" button.
If a player's critical mitigation value is lower than the dungeon's recommended value, the dungeon will be grayed out and they will not be able to queue for that dungeon.
If a player has a lockout timer on a dungeon, that dungeon will also be grayed out and they will not be able to queue for that dungeon.
Lock out timers are only enforced for content from the current expansion. Dungeon Finder will ignore lock out timers from previous expansions' dungeons.
If a player is already in a group, only the group leader can queue the entire group for Dungeon Finder, although individual players can still queue separately.
Loot options are defaulted to "Need Before Greed." This cannot be changed when using Dungeon Finder.
Dungeon Finder is server-wide only. It will not pull players from other servers.
Wait times may vary.
If a player is manually /invited to a Dungeon Finder group, they will need to make their own way to the dungeon and cannot automatically teleport in.
If a player needs to step out of the dungeon finder zone to grab a quest or run an errand, they can return immediately to the group by using the "return" button on the Dungeon Finder window. (Note: PvP Groups - If a player zones out of a DF instance and their alignment doesn't match that of the leader, they will be disbanded from the group.)
The developers worked really hard to make this feature awesome. It's definitely going to open up an exciting new chapter in game play for users. So go forth and try it out - it's time to queue for a dungeon!

For players using third-party interfaces:
Third-party user interfaces may not work properly with Dungeon Finder. If you run into problems, please be sure to turn them off and use the default UI until the third party interface is updated.