A letter from Skyana of Antonia Bayle:
It's spring and the festivities in Kelethin are about to begin! The Faydwer Faire has its roots in the spring-time celebration in Kelethin, and on April 8, 9, and 10th, this player-run festival on the Antonia Bayle Server will be celebrating spring with music, games and prizes.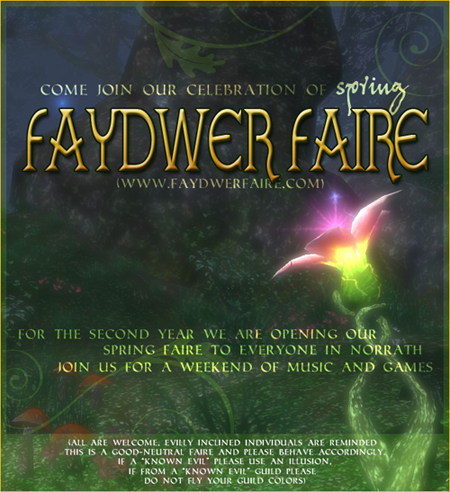 This is our second year inviting the community to join us for a weekend of fun events. The Faire is open to all, though we do ask people to keep in mind this is a good-neutral event and to behave accordingly. We want everyone to enjoy the Faire. For more information, and to check out the schedule of events you can visit www.faydwerfaire.com.

Join us as we keep the tradition of player run festivals alive and thriving for all to enjoy.
Get more information on the official SOE forums: