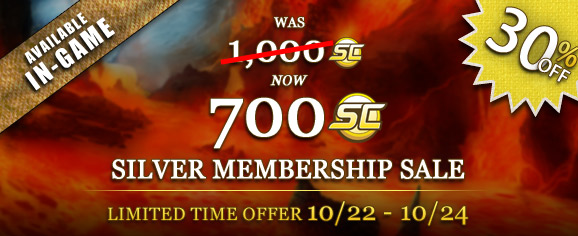 This weekend only, from Friday, October 22nd through Sunday, October 24th, Silver EQ2X Memberships will be on sale for 700 Station Cash, 30% off the regular price!
Silver Memberships are the next step up from Bronze Memberships, and offer Expert spells, three bag slots, 20 gold per level, two shared bank slots, 40 active journal quests, unlimited chat ability, and the ability to create guilds. To learn more about EQ2X and see the full chart of membership features, click here.
To purchase a Silver Membership, log in to EQ2X and open the Marketplace (click Shop Now on the Welcome Screen or click the EQII button on your XP bar and choose Marketplace). Silver Memberships are available on the Membership tab.
Need Station Cash? Look for a Free Realms Station Cash card at your local retailer (it works for all SOE games), or add SC to your wallet by logging into your Station Account from the web, click on Station Cash Balance and select Add Funds. You can also visit the Station Cash page for more information and FAQs.