This week's items will have you ready to host a party in quick time. Dress up in the cute but casual Citizen's clothing, in your choice of blue or black tones, then serve up a delicious dinner on your new Castellum Dining Set. Your friends will compliment your style for weeks to come.
Citizen's Blue Clothing Crate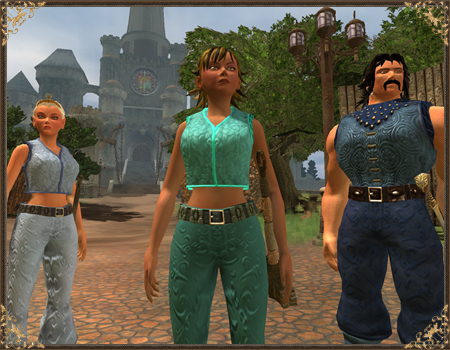 If your wardrobe needs a little pepping up, try this clothing crate which includes vest, trouser and boot combos in lovely shades of Sky, Cyan and Blue. It also includes Sleeves of Imperceptible Beauty, Gauntlets of Imperceptible Beauty and Wristguards of Imperceptible Beauty. This cloth armor set can be yours for just 300 Station Cash.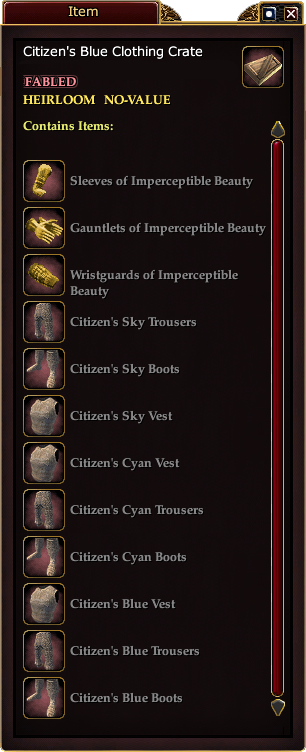 Citizen's Black Clothing Crate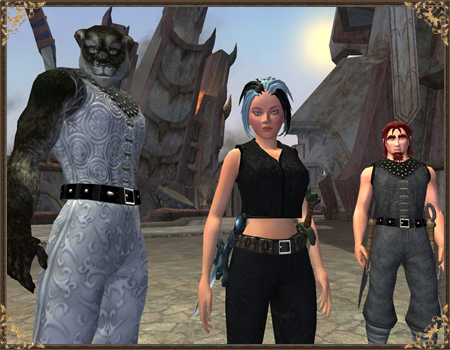 For those who want a little less color without sacrificing style, the Citizen's Black Clothing Crate may be for you. This set's trouser, boot and vest combos come in Ashen, Black and Grey hues, with the same three Imperceptible Beauty pieces. Also priced at 300 Station Cash, the Black crate is a bargain for anyone looking for a subtle style update.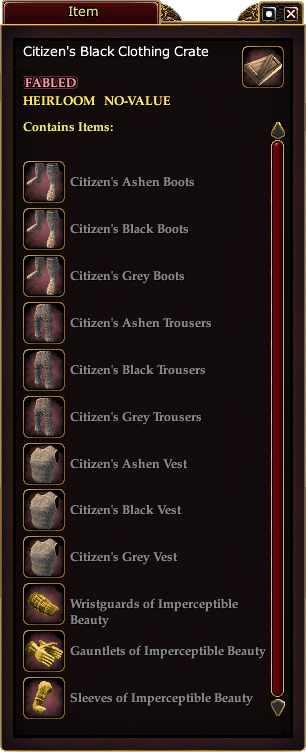 Castellum Dining Room Furniture Set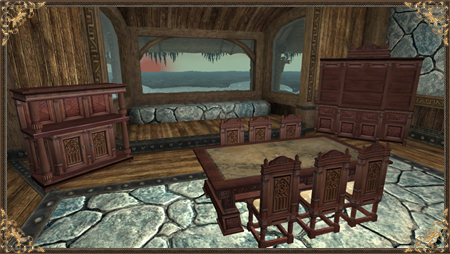 The Castellum Dining Room Furniture Set is the perfect home decorating companion to the Castellum Bedroom Set. The intricately designed dark woods bring a formal look to your home, and make a statement of strength, sturdiness and beauty all at once. The set comes with a marble-inlaid table, six chairs, sideboard and tall china cabinet. For just 1600 Station Cash, take a set home today and be the talk of the town.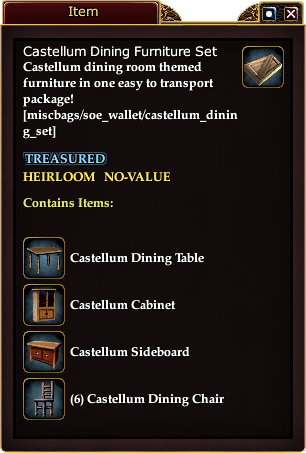 To buy any of these items and more using your Station Cash, type /marketplace in game, or click on the EQII button and select Marketplace from the menu.
Need Station Cash? Look for a Free Realms Station Cash card at your local retailer (it works for all SOE games), or visit the Station Cash page for more information and FAQs.