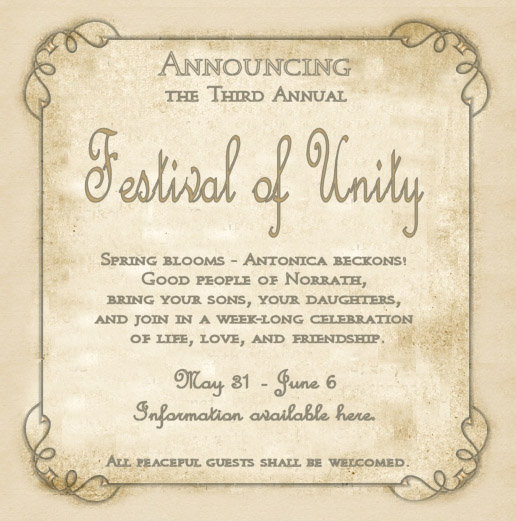 Come one, come all to this year's Festival of Unity on the Antonia Bayle server starting May 31st and lasting through June 6th! This year, the festival is brought to us by the combined guild might of Green Council, Legacy of Honor, Legion of Kithicor, Order of Bayle, Pour la Meute Rebelle, Restoration, Sojourners of Norrath, The Kindred and Vagabond Knights.

Take your chances at the magics thrown at the Mage Tournaments, wear out your boots or simply stand at the side and cheer at the Parades, or even show your gastronomical might at the Drunken Dwarf and Spider Pie competitions!

This is the festival's third year now, and it has grown into a roleplaying powerhouse! If you are a die-hard roleplayer or if you simply want to see what all the fuss is about in Antonica, you REALLY don't want to miss this!

Map and Schedule of Activities!





Sunday
(12:00pm PDT - 3:00pm EDT) Opening Ceremony: Location 1
(1:00pm PDT - 4:00pm EDT) Joust of Champions: Location 2
(4:00pm PDT - 7:00pm EDT) Drunken Dwarf: Location 6
(5:00pm PDT - 8:00pm EDT) Archery Tournament: Location 2
(7:00pm PDT - 10:00pm EDT) Wishing Well: Location 6


Monday
(4:00pm PDT - 7:00pm EDT) Gnome Punting: Location 2
(5:00pm PDT - 8:00pm EDT) Antonican Idol: Location 6
(6:30pm PDT - 9:30pm EDT) Golden Lemming: Location 5


Tuesday
(3:30pm PDT - 6:30pm EDT) Fishing Tournament: Location 6
(5:00pm PDT - 8:00pm EDT) Tavern Night Legends of Norrath Tournament: Location 6
(7:00pm PDT - 10:00pm EDT) Mage Tournament: Location 2


Wednesday
(4:00pm PDT - 7:00pm EDT) Over the Edge: Location 5
(5:30pm PDT - 8:30pm EDT) Feyiron Chef: Location 4

Thursday
(4:30pm PDT - 7:30pm EDT) Klang Show: Location 6
(5:30pm PDT - 8:30pm EDT) First Blood: Dueling Tournament: Location 2


Friday
(4:00pm PDT - 7:00pm EDT) Spider Pie: Location 4
(5:30pm PDT - 8:30pm EDT) Scavenger Hunt: Location 6
(7:00pm PDT - 10:00pm EDT) Battle of the Bards: Location 6


Saturday
(8:00am PDT - 11:00am EDT) Rock'em Sock'em: Location 2
(9:00am PDT - 12:00pm EDT) Lawn Darts: Location 5
(10:00am PDT - 1:00pm EDT) Riddle Me This: Location 6
(11:30am PDT - 2:30pm EDT) Bug Hunt: Location 6
(12:00pm PDT - 3:00pm EDT) Critter Race: Location 6
(1:00pm PDT - 4:00pm EDT) Old Fashioned Race: Location 2
(2:00pm PDT - 5:00pm EDT) Parade: Location 1
(3:00pm PDT - 6:00pm EDT) Date Auction: Location 6
(5:00pm PDT - 8:00pm EDT) Closing Ceremony: Location 6
(5:30pm PDT - 8:30pm EDT) Party Finale: Location 6