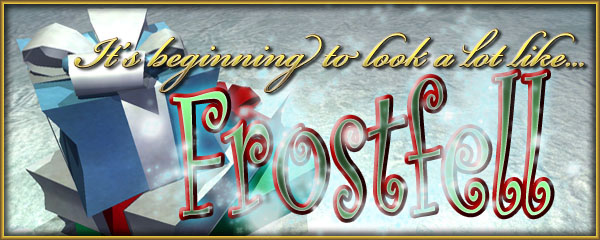 It's time for the season of gift giving and snowball fights! Frostfell is almost upon us. From Thursday, December 11, 2008 through Tuesday, January 6, 2009 you'll be able to enjoy Norrath's fabulous winter wonderland!
| | |
| --- | --- |
| | Every year at Frostfell, Norrath catches the holiday spirit! This year is no different. There will be quests, crafting, presents, and most importantly: snowball fights! |
There are new quests to be found within the player cities and within the Frostfell Wonderland Village.

You'll get the chance to help Aildiun Mawdrun investigate the mysterious Icy Keep and help free ice goblins from the oppression of a monstrous ice dragon!
| | |
| --- | --- |
| | All of the classic Frostfell quests have returned, including "Tale of the Gigglegibber Grump." Everyone gets a chance to participate in all of the Frostfell quests, even if they have completed them in the past, and each quest has at least one new reward to offer! |
| | |
| --- | --- |
| New zone features! The Frostfell Wonderland Village has been hit by a big cold snap this year which has frozen over all of the water. It's all sorts of slippery fun, but be sure to keep warm, or your frostbitten toes may be added to the others that can be found within the zone. The cold snap has affected the snowballs obtained in this zone, too. They really pack a wallop now! | |
| | |
| --- | --- |
| | There's a new gift giver in town! Something horrible has happened to Gardy the Giftgiver, but dry those tears for Santa Glug has come to our rescue! This gigglegibber goblin can be found in the Frostfell Wonderland Village handing out brand new gifts to everyone who asks (once a day)! |
| | |
| --- | --- |
| Tradeskillers will find all sorts of new gifts to create! New house items, clothing and equipment await them. The new recipes can be bought from Giddlenerf, Guhtosle, Giggawat, and Garsleblat in the Frostfell Wonderland Village. | |
Click here to see the decorative goodies that Santa Glug has delievered to the cities of Norrath!