Technical Support for EverQuest II can be reached in several ways; from in-game or through our support website, by phone, email, live chat, or on our forums. You can also find many answers to frequently asked questions at our Knowledge Base. If the Knowledge Base does not have the answers you're looking for, we recommend in-game or web support as the best way to track tickets and get the fastest responses.
To access In-Game Support, you can use either the in-game /petition command or the Knowledge Base website, http://support.station.sony.com/petition.You will need to have an active Station account with a verified email address on file.
After validating your email address, you can log into the support site to submit your petition. To
do so, click on the In-Game Support tab and enter your Station name and password. You'll then see the form below.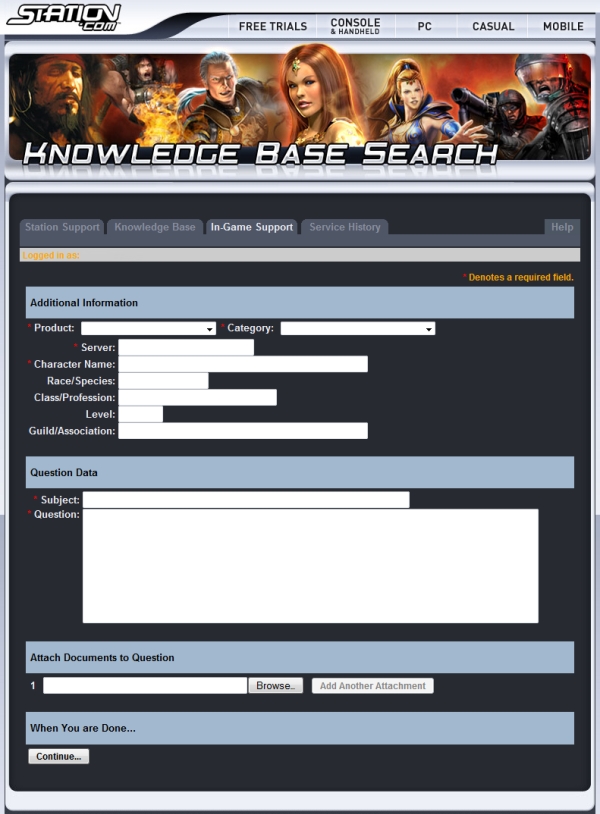 If you've come from in-game, many of the character information fields will already be filled out for you. If not, fill in those fields now. Also fill in any other relevant fields and click the Continue button to send the petition to the first available customer support representative.
You will receive an email receipt acknowledging your recent submission. Receipts of all contact will also be sent to your registered email address so it is important to ensure that your contact information is correct and updated.
A copy of this incident will also be stored in your Service History tab under 'Questions' so you can review all GM/Player interaction in regards to your petition at any time, including after it has been resolved. To access your Service History, use the link above or go to http://help.station.sony.com and click on the Service and Contact History link.
Through our web form, you can expect the same level of service you've always received while in-game, with better tracking methods and faster responses. Please make as much use of our Knowledge Base as possible as answers to common gameplay questions are often readily available!
While using the in-game support or the website is our recommended way of asking for help, we also offer assistance through the Technical Support Forums for EQII and by phone, email, and live chat. Follow this link for all of our Technical Support Contact Information.