Greetings Norrathians!
As we charge ahead into 2018, everyone here on the EverQuest 2 team wanted to take a moment to say a big 'Thank You!' to all of you! We hope you've all had a happy holiday season and that you are all finding fun, challenging adventures in our latest expansion, EverQuest 2: Planes of Prophecy. The Planes hold a special place in the history of EverQuest and it was a great privilege to bring the Planes to life once again!
We wanted to honor the original experience with our own unique spin, including our not so subtle nod to the original Planes of Power art. In case you love the art for EverQuest: Planes of Power and EverQuest 2: Planes of Prophecy as much as I do, you can now download the high-res version of these images for your own enjoyment.
Click either of the images to get bigger versions of this art: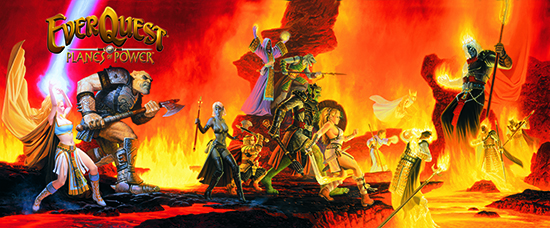 As you all venture through the expansion, the team here is on a quest of our own… planning! We're in the midst of figuring out what's in store for this year, and I can't spoil anything yet, but it's going to be good! While you might have to wait a while for more information about what's coming your way, you won't have to wait too much longer for our next game update! Slated for early February, we'll be releasing the Tradeskill Signature quest line, which offers an additional way to earn progression and continues the story of Planes of Prophecy. This next game update will offer a variety of other content including a new season of Familiars, and you'll learn more soon!
And don't forget that Erollisi Day is just around the corner!
As always, thank you for your continued support!
Lauren "Mooncast" McLemore
Producer, EQ & EQ2
--
Fae-tastic! What a whirlwind year…again! Thanks to all the players who continue to play a role in our fantasy lands. We will continue to craft and weave more fun into EQ2 this year. See you in game, friends!
Holly "Windstalker" Longdale
Executive Producer, EverQuest Franchise